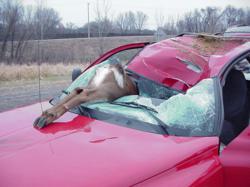 "It's interesting for us to have the video," said Lt. Jason Bartell of the State Patrol, "and for the public to see that how dangerous it is."
Minneapolis, Minnesota (PRWEB) November 02, 2011
There were 2,570 car-deer collisions in Minnesota alone last year, and nearly a third of them occurred in the months of October and November. Rapid Glass is encouraging drivers to pay attention, buckle up and slow down at dawn and dusk when deer are most active. If possible, try avoiding driving during these hours altogether, especially on long trips. Also, if you see a deer, apply the brakes and don't veer away from the deer. More serious accidents may occur if the driver attempts to "veer" to avoid the deer and ends up in the ditch, hitting a tree, or involved in a rollover.
Counties with the most car-deer collisions include Hennepin County leading the list with 166, followed by Sherburne County with 160, Dakota County with 150 and finally Anoka County with 105. One major misconception is that these collisions primarily occur in more rural areas, but as you can see by the top four counties, population is definitely a dominate factor. "We have a lot of heavily populated areas around the Twin Cities." Says Rick Rosar, Owner of Rapid Glass in Minneapolis, "We also have a lot of highways and interstates around here, so people don't believe there's a lot of deer around which couldn't be farther from the truth."
Earlier this month, a deer ran onto the highway, jumped out and slammed into a state troopers squad car. The entire incident was recorded on the troopers dash board camera. "It's interesting for us to have the video," said Lt. Jason Bartell of the State Patrol, "and for the public to see that how dangerous it is." The deer's head and antlers went through the driver's side of the windshield requiring a windshield replacement as well as other body damage repairs. The trooper suffered only minor injuries in the accident.
Fall brings a definite change in the whitetail's attitude. The passiveness of spring and summer is suddenly replaced by the excitement of the rut and breeding season. Mature bucks become more active, less cautious and roam widely in search of female deer. Taking a few simple precautions and following these Automobile Safety Tips during this time of year, may help you from seeing that "deer in the headlights", and possibly avoiding a more costly and potentially dangerous collision.
For 25 years, Rapid Glass has been one of Minnesota's premier Windshield Replacement and Auto Glass Repair Specialists. We provide Quality Same Day Service for all your Auto, Home or Business Glass needs. Our Customer Service representatives are both friendly and knowledgeable. Rapid Glass will handle all the paperwork and assist the customer with reporting their loss to ensure they are getting the full benefit that their insurance policy provides.
###