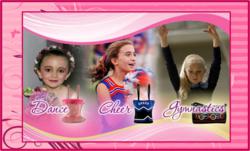 Customers say 'We love your bags because they are so cute and unique.'
Seabrook, Texas (PRWEB) November 05, 2011
Sassi Designs has the right gift for all girls involved in Dance, Cheer, Gymnastics, Teams and other activities through their offering of uniquely decorated bags. Choose a BLANK bag to personalize for any activity with an Individual or Team Name. These uniquely decorated bags make the perfect gift for ballet, tap, jazz dance recitals, birthday, spirit awards, fund raiser, holiday, competitions, teacher appreciation, sleepover, and more! Specialty designs include the Tutu Bags and Cheer Totes that can be filled with flowers for an extra special gift! Other gift ideas include creating an Easter Basket by filling with goodies or Back-to-Class by filling with school supplies. The possibilities are endless!
Dancers, Cheerleaders, Drill Teams, and Gymnasts love the bags that come embroidered with their discipline; BLANK bags offer the flexibility for individuals and teams to have the bags embellished and embroidered for whatever their interest might be. Some examples are: Team Names, Sleepover, Soccer, Tennis, and Swim. Or, perhaps just personalize it with the child's name to make it an extra special gift.
These uniquely decorated bags are constructed of excellent quality materials and workmanship and represent the highest quality on the market today. Sassi takes pride in offering the most features at the best price. Every bag has multiple pockets to store those important items and a matching Personal I.D. Tag comes with every bag attached as a zipper pull.
Whatever the occasion or activity, Sassi Designs makes bags that are perfect for a memorable gift. Sassi Designs enjoys helping children grow to their potential as we support their activities by creating a variety of products that add to the excitement of accomplishment that extracurricular activities bring. Watch this company grow as they introduce more products to celebrate the myriad of opportunities a 21st Century Girl enjoys!
About Us:
Sassi Designs is located in Seabrook, Texas, a popular southeast suburb of Houston, near the Clear Lake NASA area. Established in 2004, Sassi has enjoyed very strong and successful years. Products can be found in specialty Dancewear, Gymnastics and Cheer Shops, Children's Stores, Gift Stores, Toy Stores and, Embroidery Shops in the United States, Canada, Central America, Japan, the United Kingdom, Australia, New Zealand and Korea.
# # #