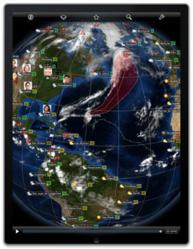 EarthBuzz is beautiful on the iPhone 4's retina display, but absolutely stunning on an iPad 2.
(PRWEB) November 03, 2011
The new release of EarthBuzz version 1.2 for iOS devices includes a number of groundbreaking improvements that elevate it to the status of "Social Earth" Killer App. EarthBuzz now allows you to visualize your geo-tagging Twitter friends on a 3D globe along with overlays of live global weather conditions, hurricanes, earthquakes, observations and forecast imagery.
EarthBuzz shows the real potential of virtual earth platforms by presenting a colossal amount of global earth information in one place and the addition of a Twitter client takes this one step further and makes EarthBuzz a communications platform. An essential app for those who don't want to miss out on seeing the "big picture".
EarthBuzz is a provider of an interactive social weather application for iPhone/iPad/iPod Touch avaialble now on iTunes App Store. EarthBuzz is powered by weather data from CustomWeather, Inc.
EarthBuzz aims to provide the most fun and compelling "big picture" experience to checking weather conditions, forecasts and other global events and to expand this into a platform to connect friends and loved-ones within the context of these events. EarthBuzz is must have app for iPhone / iPad users of all ages.
New in version EarthBuzz 1.2:

Twitter layer showing your friends on a 3D globe
Tweet about earthquakes, hurricanes and advisories
New Hurricanes and Observations layers and enhanced details for Earthquakes
Many new forecast image layers (Clouds, Rain, Snow, Ice, Temperature, Humidity, Wind)
Country flags, borders and an embedded Wikipedia browser for country information
Performance improvements
EarthBuzz Feature Overview:
Displays current weather conditions on a 3D virtual earth
Visualize and tweet to twitter friends and followers on a 3D globe
View weather conditions including temperature, humidity, wind direction and more
Favourites and World Clock to quickly view current weather conditions and local time
Up-to-date 7-day forecasts for over 50,000 locations
Global earthquake activity over the last 24 hours
Global hurricane activity over the last 7 days
Many forecast image layers (Clouds, Rain, Snow, Ice, Temperature, Humidity, Wind)
Overlays animated near real-time satellite cloud data (updated hourly)
Employs a 3D tiling engine providing high fidelity deep zoom
Uses NASA Blue Marble Next Generation earth imagery
Beautiful hi-resolution graphics on the iPhone 4 Retina display
# # #