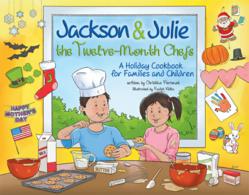 Perrenot introduces the art of cooking to youngsters through fun activities and holiday recipes that can be shared with family and friends

Jill Sheeley, best-selling author, the Adventures of Fraser the Yellow Dog children's book series
Dallas, Texas (PRWEB) November 07, 2011
First-time author Christine Perrenot of Dallas, TX introduces budding young chefs to the art of cooking in the kitchen in the new children's cookbook "Jackson and Julie, The Twelve-Month Chefs: A Holiday Cookbook for Families and Children".
Cleverly illustrated by Ralph Voltz, "Jackson and Julie" is more than just another children's cookbook; Perrenot provides the platform to get young cooks started and the tools to ensure their success.
"Jackson and Julie" begins by teaching young readers the importance of kitchen safety and etiquette: always ask an adult to help you cook, wash your hands with soap and water before you start and make sure pots, pans, dishes and surfaces are cool before touching them are just a few good examples.
Follow along with "Jackson and Julie" as they prepare tasty treats for their friends and family from twelve delicious and easy-to-make seasonal recipes, including Back-to-School Banana Splits, Halloween Roasted Pumpkin Seeds, Thanksgiving Day Pumpkin Pie, Snowflake Snickerdoodles and Cookies for Santa.
In addition, she provides the perfect excuse to bring family and friends together—like Richard Chamberlain of Chamberlain's Steak and Chop House says, "As a chef, spending time cooking with my family created some of our most precious memories."
Perrenot makes cooking fun for both children and their parents. "The benefits of cooking as a family are two-fold," says Perrenot. When given the reins in the kitchen, children have an opportunity to be independent and to learn the basics of cooking for themselves, while parents can observe their children's problem-solving skills and help them establish good eating habits at an early age.
Best-selling children's author Jill Sheeley says, "Perrenot introduces the art of cooking to youngsters through fun activities and holiday recipes that can be shared with family and friends. "There's a recipe for everyone in the family, and nothing brings folks together faster than whipping up sensational food made with love, so roll up your sleeves, grab your spatula and get cooking!
To learn more visit: http://www.TwelveMonthChefs.com.
About Brown Books Publishing Group:
Brown Books Publishing Group is a Texas-based, independent publisher providing manuscript development, editorial expertise, website design, cover design, fulfillment and distribution, as well as marketing and public relations. A referral-only publisher, Brown Books has ushered in A New Era in Publishing™ where authors who've chosen to retain the rights to their intellectual property are invited to participate in the publishing process from start to finish. Relationship publishing is the mainstay of Brown Books Publishing Group and its many imprints: The Small Press, Brown Christian Press, Brown Books Digital, and Personal Profiles. For more information about BBPG visit http://www.brownbooks.com or to schedule an appointment with the publisher, Milli Brown, please contact Rayven Williams at rayven(at)brownbooks(dot)com or 972-381-0009.
# # #