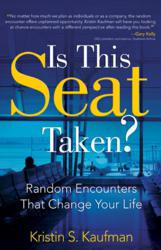 Through real-life stories, Kaufman illustrates the core idea of being present in the moment and opening oneself up to new ideas in order to become an authentic leader in life.
Stephen R. Covey, Author, The 7 Habits of Highly Effective People
Dallas, TX (PRWEB) November 01, 2011
If you think incidental meetings are just incidental, think again, says Kristin S. Kaufman, former Hewlett-Packard powerhouse, current principal, Alignment, Inc., and author of new book "Is This Seat Taken? Random Encounters That Change Your Life" (Brown Books Publishing Group). We live in a world that is moving so fast, we are apt to miss much of what is happening "right now."
Readers will discover the enormous impact that random encounters can have on their lives and how these encounters become a compass, pointing them on their own road to alignment, fulfillment and success.
"Is This Seat Taken?" offers important life lessons that force the typical executive - and indeed all of us - to ponder what it means to truly be present in the moment.
Drawing from real-life experiences, Kaufman reveals a collection of highly personal stories to illustrate how a wealth of wisdom may come from the most unusual and unlikely sources such as a taxi cab driver, a bartender, or clerk in a department store.
"Is This Seat Taken?" is an inspirational read interspersed with meaningful personal reflections," says Barbara Braham, PhD, MCC, author of "Finding Your Purpose."
Through a series of vignettes and notable takeaways at the close of each chapter, Kaufman hopes readers will learn the importance of random encounters and how they can change their lives
Whether you are a soccer mom or a jet-setting corporate executive who frequently travels to varied and far-flung places, "'Is This Seat Taken?' illustrates the core idea of being present in the moment and opening oneself up to new ideas in order to become an authentic leader in life," says Stephen R. Covey, author, "The 7 Habits of Highly Effective People" and "The Leader in Me."
"Kaufman is brilliant in illustrating how chance encounters can provide rich opportunities to learn," says Ann V. Deaton, PhD, PCC, managing partner, Bounce.
Adds Robert Jordan, former US Ambassador to Saudi Arabia, partner, Baker-Botts, LLC, "Kaufman has an uncanny ability to connect the wisdom of cab drivers and bartenders with the core issues of our everyday lives."
"Through her deep, intuitive understanding and unique way of building trust, Kristin communicates stories that both teach and inspire us all," says Wendy S. Lea, CEO, Get Satisfaction.
The message is simple says, Christine M. Wahl, MAEd, MCC, Georgetown University, "pay attention and get engaged in life." Gary Kelly, CEO, president and chairman, Southwest Airlines adds, "The random encounter offers unplanned opportunity."
"Thousands of individuals unknowingly contribute to the creation of our lives," says Kaufman. "Over the years, these serendipitous exchanges have made imprints on my mind and heart and served as catalysts for my ongoing growth and development."
"This collection of Kristin's 'chance' encounters may cause you to look at life — and every stranger you meet — a little differently. I have always believed that you can learn something from every person who comes into your life." says Ken Blanchard, coauthor of The One Minute Manager and Lead with LUV
To learn more about Kristin S.Kaufman and "Is This Seat Taken?" visit: http://www.KristinKaufman.com
Readers are invited to share their own random encounter stories for potential inclusion in her next book!
About Brown Books Publishing Group:
Brown Books Publishing Group is a Texas-based, independent publisher providing manuscript development, editorial expertise, website design, cover design, fulfillment and distribution, as well as marketing and public relations. A referral-only publisher, Brown Books has ushered in A New Era in Publishing™ where authors who've chosen to retain the rights to their intellectual property are invited to participate in the publishing process from start to finish. Relationship publishing is the mainstay of Brown Books Publishing Group and its many imprints: The Small Press, Brown Christian Press, Brown Books Digital, and Personal Profiles. For more information about BBPG visit http://www.brownbooks.com or to schedule an appointment with the publisher, Milli Brown, please contact Rayven Williams at rayven(at)brownbooks(dot)com or 972-381-0009.
###