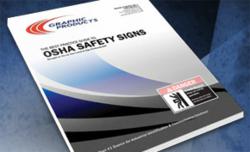 The Guide is designed to help you evaluate your facility signage and assist in making your facility safe and OSHA compliant.
Portland, OR (PRWEB) November 01, 2011
Graphic Products, Inc., the world's leading safety and industrial label printer manufacturer and supplier, has released the colorful, 20-page Best Practice Guide To OSHA Safety Signs to help facility safety managers understand the importance of safety signs in eliminating injuries and fatalities in the workplace.
Every day workers risk machines squeezing, pinching and crushing body parts; falls occurring from roofs and ladders at great heights; being hit by moving objects and excessive noise causing hearing loss. Motor vehicles are injuring and killing workers on the job. Even slips and trips on flat surfaces may be fatal to workers. The list of work-related injuries is long and frightening.
OSHA is tasked with doing everything in its power to prevent these incidents from occurring including specifying safety signs and labels.
The Guide is designed to help you evaluate your facility signage and assist in making your facility safe and OSHA compliant. In addition to OSHA requirements you'll learn about ANSI Z535 Safety Alerting Standards, which govern the design of safety sign design.
The Guide covers the following topics:

The importance of safety signs
OSHA/ANSI compliant sign and label definitions
Sign classifications such as primary hazard classifications, secondary hazard classifications, non-hazard signs and discontinued headers
Creating your own safety signs with appropriate colors, style and text
Sign and label maintenance
Tools and supplies
Facility evaluation guide
OSHA is not necessarily breathing down the neck of industry, as some fear. With only about 2,400 OSHA inspectors inspecting the more than 111 million US workplaces, that would be a monumental, if not impossible, task. Knowing OSHA inspections are rare for most companies should never diminish a facility's responsibility to provide a safe workplace and that responsibility includes the use of OSHA compliant signs and labels throughout a facility.
OSHA tracks facilities and serious injuries from many trades. Based on this data, if a notable industry has high risk jobs that get cited every year, they will focus inspections on these injuries.
The Guide is available to those who fill out a form located at DuraLabel.com.
With more than 50 unique labeling supplies providing the right label material for nearly any type of environment, a full family of printers for every application, a five-year vinyl supply warranty, free technical support and satisfied customers throughout the world, DuraLabel and Graphic Products have solved unique problems in the industrial safety arena for more than 40 years.
###