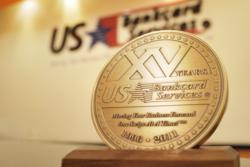 Fifteen years in the payments industry just doesn't happen by accident.
City of Industry, CA (PRWEB) November 01, 2011
US Bankcard Services, Inc. (USBSI) celebrated its 15th anniversary on September 18, 2011. In the last fifteen years it has grown from a small startup company to a large company with the ability to provide multi-lingual customer services in more than nine languages and offer merchants 24/7 technical support.
In the last fifteen years, USBSI has expanded its services to support the needs of its merchants. It established an in-house chargeback support team in 2004 and partnered with UnionPay in 2008 to give merchants more opportunities to reap the rewards of tourism. In recognition of its accomplishments and the success of its merchants, USBSI has received many awards from Elavon. Among the awards are several 1st Place national and regional awards for top producer and top volume. USBSI was the very first and the only recipient of the Arch Award, which was awarded for reaching $1.5 billion in annual transaction volume.
USBSI would like to emphasize that its merchants are the reason for its success, and that appreciation is kept in mind daily. USBSI continues to serve a variety of businesses in restaurants, retail, e-commerce, mail and telephone order, and many more encompassing nearly 30,000 approved merchant accounts across the United States. Because of the success of its merchants, who process a combined four million transactions per month, USBSI has been able to stay strong, retain, and increase its workforce despite the recent economic recession. Senior Vice President of Elavon David McAlhaney had this to say: "On behalf of Elavon, congratulations to Chris and the entire US Bankcard Services team. Fifteen years in the payments industry just doesn't happen by accident. It is a result of having a well thought out plan and the amazing leadership to implement the plan. It is a pleasure to be affiliated with such an outstanding company."
USBSI is proud of the services it has rendered for its merchants and the global community. USBSI continues to help countless merchants, many of whom are recent immigrants, assimilate into their new country and navigate the waters of owning a new business. In addition, USBSI also takes pride in its donations to causes such as the Pediatric Brain Tumor Foundation and its relief efforts for natural disasters in Japan and Taiwan.
US Bankcard Services, Inc. would like to reiterate that to celebrate USBSI's accomplishments is to celebrate those of its merchants. USBSI makes it a priority to provide the best service to its merchants and the accomplishments of the last fifteen years are a testament to their dedication. USBSI would like to use this occasion to thank their merchants for their past and continuing support and toast to the success of years to come.
About US Bankcard Services, Inc.
US Bankcard Services, Inc. is a top rated MSP that offers competitive rates, incredible customer service support, and cutting edge technology in credit card processing service. USBSI offers a wide array of value-added services, including QuickDining.com (QD) restaurant e-commerce, gift card services, check guarantee, PCI –DSS compliance consultancy, 24-7 multilingual customer service and technical support. US Bankcard Services, Inc. is a registered MSP/ ISO of Elavon, Inc. Georgia
For more information about merchant bankcard services please visit us at usbsi.com or call us at: 1-888-525-8558.
###