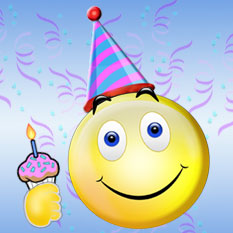 We want to extend a big thank you to our members. Not just for celebrating with us, but for helping HappyBidDay become a top rated penny auction website.
(PRWEB) November 01, 2011
HappyBidDay.com, an online auction site that offers a unique twist to shopping, has announced an exciting lineup for the month of November. The site has quickly grown to become one of the most popular and fastest growing online penny auction sites in the industry. Site owner, Lisa Dee, is rewarding members for the success.
"We had a great first year – thanks to our members," explains Dee. "As a reward to our loyal members, we're giving away lots of free surprises."
Loyal members get 35 percent off their next two bid pack purchase from November 1 to November 7. They will also get 200 free bids for each day they log-in. Members who invite friends to share in the fun get 100 extra bids for each new friend that joins. Members also have access to Facebook invites, allowing them to easily invite friends and rack up free online auction bids.
New members get special birthday gifts, too. These members are awarded 100 free online auction bids - just for signing up. An excusive bid pack discount of 20 percent is also available to new members. These members get access to the site's reward program. The program offers perks simply for participating in happy penny auctions. Registration is no-cost and takes less than 60 seconds to complete.
"We're thrilled to celebrate our one-year anniversary with our members," explains Dee. "The month of November is going to be an exciting time. For the first time ever, HappyBidDay will auction off two 1,000 bid packs per week. Plus, members can log-on daily to get access to unannounced surprises. There's truly no other online auction like HappyBidDay.com and we're thrilled to share this special time with our members."
For more information about HappyBidDay.com, visit http://www.HappyBidDay.com, or email pr(at)happybidday(dot)com.
About HappyBidDay.com:
HappyBidDay.com is one of the fastest growing, most reputable online penny auction sites in the United States. The penny auctions allow its shoppers to score huge savings on brand new, brand name electronics, appliances, gift cards, jewelry, accessories and more in a fun, secure online environment. HappyBidDay is known for its excellent customer service, speedy shipping and exclusive, robust rewards program. In this rewards program, loyal customers rack up tons of free online auction bids for registering, logging in daily, buying bid packs, inviting friends and celebrating a birthday.
###