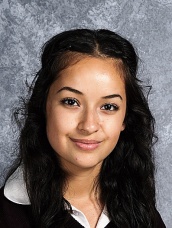 Because of Maria's experience at Immaculate Conception Academy, she was prepared to interact with the professionals promoting the film and working at OWN.
San Francisco, CA (PRWEB) November 02, 2011
Maria Contreras, a student at Immaculate Conception Academy (ICA Cristo Rey), a Catholic college preparatory school in San Francisco, recently appeared on the Oprah Winfrey Network (OWN). She joined a panel speaking on the documentary Miss Representation, directed by Jennifer Siebel Newsom.
Maria originally met Jennifer at the Professional Business Women's Conference at the Moscone Center on May 11th, 2010. ICA sponsored several students at the conference in order to help them network and grow in their professional skills. ICA has a corporate work study program in addition to their college preparatory curriculum where students work five business days a month in Bay Area corporate offices. This work finances a majority of their education at ICA along with opening up doors in the workplace that might otherwise be closed to them.
Jennifer asked to interview the ICA students for the documentary she was in the process of making. Maria is highlighted in the film. She shares about her experience with women being misrepresented in the media and the impact of those messages on society.
Maria stated that because of her experience at Immaculate Conception Academy, she was prepared to interact with the professionals promoting the film and working at OWN. The work study program at ICA taught her how to respect herself and present herself as a young adult throughout the process.
Maria also said that as a result of being a part of the Miss Representation film her personal message has become one focused on "clearly empowering young women. Even though we're in America there are still people who think women can't do certain things."
She emphasized her belief that more women should be represented in corporations. When discussing how to empower women to achieve their highest potential she stated, "The most powerful weapon is education. And women should always be willing to take chances."
The Oprah Winfrey Network was impressed by Maria's debut on Miss Representation which led to them inviting her to be a part of the panel discussing the documentary. Maria joined other panelists including women's rights icon Gloria Steinem, Emmy-winning television anchor and correspondent Carol Jenkins, Dr. Caroline Heldman, associate professor of political science at Occidental College, and author Meghan McCain. The episode will re-air on November 12th at 11 AM ET.
To learn more about ICA or to donate toward students' tuition, please contact Katie Mayberry at (415) 824 – 2052 x 40 or kmayberry(at)icacademy(dot)org.
About ICA
Immaculate Conception Academy, a Catholic college preparatory school, prepares young women for college and a life of faith, integrity and service. As a Cristo Rey school in the Dominican tradition, they are committed to providing both an excellent education and meaningful corporate work study experiences to students of limited financial resources. Learn more about ICA at http://www.icacademy.org. Learn more about Cristo Rey at http://www.cristoreynetwork.org.
###