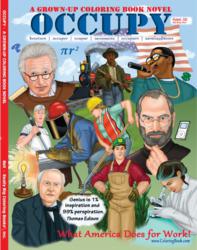 Occupy-an American cultural phenomena reflecting who we are as a people and a nation!
Saint Louis, Missouri (PRWEB) November 01, 2011
With millions of people around the globe watching "Occupy" unfold daily, parents, teachers, educators and simply "interested people" have asked for an educational piece that captures this cultural changing event and moment in history. Accurately depicted in detailed line art and conversation, the book includes modern and historical figures with quotations from Plato to O'Reilly, Hannity to Maddow, Obama to Boehner. There are pages dating back to the Robin Hood era, drawings of various parks, political views from every angle and a few surprises with imaginative, satirical pages. Included are newly written "Occupy" songs, poems and games and a true to life "Guilt Relief Donation Form" for the overburdened 1%!
This is a coloring book novel designed around the "Occupy" event that reflects who we are as a people and a nation including what the national media is saying and information on the event itself. The Occupy book is for parents and their children alike. Our company is grateful and happy to publish this new book. Inside you will find varying opinions and statements.
The high quality 36 page book has enough reading and coloring to last many hours. It's available at major book sellers Amazon.com, Barnes & Noble, Abe Books and always at ColoringBook.com. The book makes a wonderful conversation starter, stocking stuffer and it's a historical commemorative piece that will be around for many years to come. The online price is $6.99.
Really Big Coloring Books, ® Inc. headquartered in St. Louis, MO, has provided fundraising, retail and promotional opportunities through children's coloring books for over two decades and are known for their classic, unique and colorful book designs. The company has market-leading positions in its custom and trademarked coloring book brands and owns over 500 coloring book web domains in several countries. Their products are multi-cultural, bi-lingual and used by parents and children alike. RBCB operates four divisions; retail, fundraising, internet and creative development. The company ships globally and all of their products are manufactured in the USA using green technology including recycled paper and soy based inks. For more information visit http://www.ColoringBook.com or call 1-800-244-2665.
###