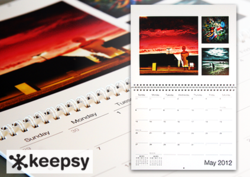 Menlo Park, CA (PRWEB) November 01, 2011
With over 12 million users and hundreds of millions of photos uploaded, Instagram has taken the mobile photo sharing world by storm. While some experts are scratching their heads over how the free application will eventually make money, some intrepid companies are diving in head first.
One such Silicon Valley startup is riding this wave with printed books and -- starting today -- with printed calendars.
"We've been really amazed by the customer feedback on our Instagram books," said Keepsy CEO Peter Weck. "The print quality has been so high that introducing new products with Instagram photos was an easy next step for us."
The award-winning site now offers 11" x 8.5" wall calendars starting at $19.95. Keepsy's integration with Instagram, Facebook, Flickr and Picasa allows seamless import of photos from these online services.
"With nothing to upload or download, making a book or calendar takes only a few minutes," said VP of Product, Blake Williams.
The first website to allow users to create Instagram books -- Keepsy is fast becoming a leading innovator in mobile-to-print technologies. This is the second announcement in as many weeks from the company, as they gear up for the holidays. Last week, Keepsy announced a new "Gift Book" feature that allows friends and family to make printed Instagram books -- and now calendars -- using each others' photos. To ensure that albums are only printed as personal gifts, Keepsy requires that a given Instagram user follows the album or calendar creator in order to access the photos.*
"If you're part of the Instagram community, we can't think of a better holiday gift than getting your friend a surprise album or calendar of their best photos," said Williams. "And now that we're shipping to 22 countries, your friends can be just about anywhere."
About Keepsy
Keepsy uses the power of social networks to create custom, collaborative photo albums and calendars. People can create their own custom albums and invite friends to add their own photos and messages to the album. Keepsy was founded by Peter Weck, Blake Williams, and Kai Zhao. Keepsy's investors include James Hong, Tim Connors, and Dave McClure's 500Startups fund. To learn more about Keepsy, please visit http://www.keepsy.com
*Other restrictions apply. For more information, visit http://www.keepsy.com/faqs#503
###