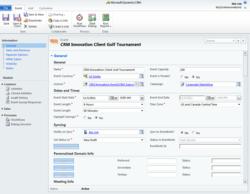 Real-Time Event Registration Information with virtually no manual interference
Sandra Somoza, CRM Marketing Analyst.
(PRWEB) November 02, 2011
CRM Innovation, LLC has released Event2CRM, which integrates Microsoft Dynamics CRM 2011 with the Eventbrite event registration and ticketing system. The Event2CRM hosted application enables event managers to plan, promote and track all the key components of their Eventbrite events entirely within the CRM system.
Event planners can now use CRM to effectively create and design the event registration page inside of the CRM system using the event designer. The events can be free or fee based, as event fees are securely captured via credit card, Google Checkout or PayPal and automatically credited to the company's account. Ticket sales and revenue are automatically reported in CRM.
Promoting the event can occur via email, phone or via direct mail using the marketing list functionality inside the CRM system. Once the event promotion has started registration information is captured in the CRM system and tracked against contact or lead records and the event information. Sales, marketing and event managers can see who is registered, who hasn't responded and the event performance metrics such as revenue and tickets.
Sandra Somoza, CRM Marketing Analyst at the Port of Houston Authority says, "One of the best business decisions I've made in 2011 as CRM Administrator/Marketing Analyst is adding Event2CRM. The hidden secret is how I've been able to optimize my own time more efficiently as a result of the Event2CRM product and how my work performance has increased in other areas."
Event2CRM is a hosted cloud application and therefore requires no code to be placed on the CRM server, and as a consequence it works with all implementations of CRM 2011 and CRM 4 – Online, on premise, partner hosted.
CRM Innovation selected Eventbrite as their event integration partner because of it's commitment to delivering a top tier solution to businesses requiring event ticketing and registration. Thanks to the enterprise quality application-programming interface, CRM Innovation has been able to build into CRM all the event management functionality most events require.
Event2CRM is one component of a trio of solutions that enhance the functionality of Dynamics CRM for marketing professionals. Email2CRM™ is an integrated email marketing solution with web analytics which provides Microsoft Dynamics CRM users with effective marketing automation and website visitor behavior insight. Web2CRM, an advanced internet lead capture solution, enables marketing professionals to create an Internet lead capture form for their website in less than 10 minutes.
About CRM Innovation:
As a Microsoft partner CRM Innovation, LLC builds sales and marketing solutions that enhance the functionality of Microsoft Dynamics CRM. Our products come from our experience working with Microsoft Dynamics CRM during the last 8 years. CRM Innovation is a specialist in building applications that empower marketing team members to perform technology tasks without having to engage IT staff because our applications are so easy to use that 'even a marketing manager can do it'. For additional information visit http://www.CRMInnovation.com.
###