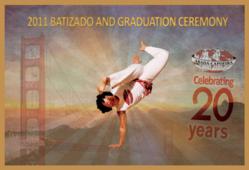 San Francisco, CA (PRWEB) November 01, 2011
ABADÁ-Capoeira San Francisco (ACSF), the Bay Area's first non-profit organization dedicated to recovering, preserving, and promoting Afro-Brazilian culture, celebrates its 20th anniversary with the Batizado and Troca de Cordas Graduation Ceremony on November 6 from 11:00 a.m. - 2:00 p.m. The event will be held at the ACSF Brazilian Arts Center, 3221 22nd Street at Mission Street in San Francisco. Attendees are also welcome to join ACSF for an after party from 4:00 p.m. - 6:00 p.m.
The batizado, or "baptism", is an opportunity for the public to witness the traditional aspects of Capoeira, including the initiation of new students, as well view the diversity of skills from ACSF alumni of all levels, from experts to beginners. The ceremony includes visiting guest artists from Brazil, Spain, Mexico and the United States, including Mestre Cobra, Professores Yara and Brucutú, and Instrutores Furacão, Prego, Mucuiu, Côco, Sereia, Alma de Gato and Vesper. In the week leading up to the batizado, these guest artists will also lead a workshop series open only to registered students.
ACSF, founded in 1991 by the internationally renowned Capoeira master artist Marcia Treidler, also known as "Mestranda Cigarra", offers affordable instruction in Capoeira, Brazilian dance and percussion to almost 2000 students, as well as performance events and visual arts exhibitions. Every year ACSF provides over $50,000 in student scholarships to low-income children, teens, and young adults.
Over the past 20 years ACSF has been honored for its work in the community and its preservation and promotion of Brazilian culture, including official recognition by the Brazilian Ministry of Culture as a Ponto de Cultura or "point of culture" in 2007. ACSF is the only organization outside of Brazil to be granted this title. ACSF also received the 2008 Best of San Francisco Award from the U.S. Local Business Association. In addition, in 2010 Treidler was honored by Team-Up for Youth as a Community Ambassadors in After-School for her leadership of high-quality girls' sports.
"It's always been our vision to develop ACSF into a cornerstone for Brazilian cultural arts in the San Francisco Bay Area, even back in our early days when we offered just a couple of classes to a few students in a store front on Mission Street," said Treidler. "We're proud to provide people here with the tools to learn and live Brazilian culture. We invite the public to join the ACSF community in celebrating two decades of growth and accomplishments and look forward to continued progress in the future."
For more information about the batizado and workshop series, visit http://www.abada.org/batizado2011/index.shtml.
​​​​​About ABADÁ-Capoeira San Francisco
​​​ABADÁ-Capoeira San Francisco (ACSF) is an award winning non-profit organization that works to preserve, develop, and share the martial art of Capoeira with integrity, and to use Capoeira to ignite positive change in individuals and in communities.
ACSF addresses social and economic disparities that exist in our communities by offering high-quality, accessible instructional and performance programs for youth and adults, led by world-class artists. ACSF integrates diverse communities and inspires civic responsibility, and personal and athletic success through physical, artistic, cultural, health education.
ACSF shares its name and philosophy with ABADÁ-Capoeira, short for the Brazilian Association for the Support and Development of the Art of Capoeira, an international organization of 40,000 members founded by Mestre Camisa. Based in Rio de Janeiro, ABADÁ-Capoeira is now the largest Capoeira organization in the world and is represented in more than 22 countries.
For more information about ACSF, visit http://www.abada.org.
# # #