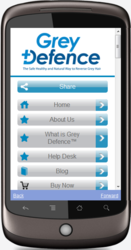 Mobile site currently serving more than 80 visitors per day
(PRWEB) November 01, 2011
COORGA Nutraceuticals is pleased to announce the launch of our new mobile website. The new Grey Defence™ mobile website can be found at http://m.greydefence.com and is currently serving more than 80 visitors per day since its soft launch two weeks ago.
Consumers need not remain "gray impaired" because they chose to experience the web from their smartphones. Now Grey Defence™ gray hair pill can be purchase while on-the-go via a mobile phone.
Ordering Grey Defence™ - the #1 gray hair treatment solution to reverse gray hair - has always been easy for our valued clients who span 5 continents. With this new mobile gray hair pill website we have taken accessibility to a whole new level of convenience.
The new mobile website is a streamlined slimmer version of our award winning website. Though a more streamlined version of our main website, the mobile site still features all our articles discussing what causes gray hair. Of course for those who want to revert back to the main website while on their mobile devices, all they have to do is select the "Classic Version" and they will once again will be on the standard website.
With gray hair reaching epidemic levels in the under-30 age group, the Grey Defence™ mobile website arrives just in time. This age group is known to surf the Internet regularly using their cell phones.
Grey Defence™ works by boosting the body's supply of Vitamin B and Folic Acid, to aid in melanin production. It also eliminates hydrogen peroxide which bleaches hair internally from the root. Hydrogen peroxide is eliminated via a combination treatment of chelation and decomposition. Grey Defence™ ingredients includes potent antioxidants such as vitamins, essential amino acids and the enzyme Catalase . All wrapped in a protective 100% vegetable shell employing time release technologies that survives stomach acid. Visit us and learn how the best gray hair vitamin works.
About COORGA Nutraceuticals
COORGA Nutraceuticals is a company focused on developing products for the anti gray hair market. The company also operates Gray Hair Defence blog; a resource for those looking for information on what cause gray hair.
# # #