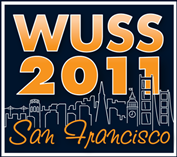 Clinovo's SAS experts are frequently selected to present their white papers at major SAS industry events.
Sunnyvale, CA (PRWEB) November 01, 2011
Clinovo reaffirmed its expertise with SAS® development for clinical trials by once again presenting its papers at WUSS, one of the most attended conferences for SAS® professionals. The conference was held at the Grand Hyatt in San Francisco, from October 12th through October 14th, 2011.
Clinovo Experts Presenting at WUSS 2011 WUSS 2011
Clinovo's papers were well received by the conference attendees who gathered in number for each presentation. Clinovo presented 5 papers on its latest innovation and in-house SAS®-based tools. Clinovo's papers demonstrate how to leverage SAS technology to accelerate clinical trials. They describe the features and benefits of customized applications that are helping life sciences companies effectively manage clinical trials:
"How to easily convert clinical data to CDISC® SDTM", by Ale Gicqueau, and "Use CDISC SDTM as a middle tier to streamline your SAS® infrastructure", by Kalyani Chilukuri, describe how to easily convert clinical data to CDISC® SDTM domains using CDISC® Express, a SAS-based tool that automatically converts clinical data to CDISC standards;
"Sending emails in SAS to facilitate clinical trial", by Frank Fan, shows how to automatically send reports by email using SAS®;
"Setting the environment with SAS® DM statements", by Megha Agarwal, explains how to use SAS® DM (Display Manager) statements to save time on coding with SAS®;
"Solve eight queens puzzle with SAS® macro", by Jian Dai, demonstrates how to create SAS® macros to solve complex mathematical puzzles such as the eight queens puzzle;
Clinovo is a leader in SAS® programming in the Bay Area, reflected by the significant amount of paper acceptance in the past 18 months. The company SAS experts are frequently selected to present their white papers at major SAS industry events, including PharmaSUG, WUSS, and SAS Global Forum where Clinovo was awarded Best Paper.
Clinovo was also an official sponsor for the event. By visiting the booth, industry professionals had a unique chance to interact with our SAS experts, and our clinical staffing team currently looking for candidates for open positions (visit http://www.staffing.clinovo.com to learn more).
About Clinovo
Clinovo is a leading edge Clinical Data Solutions Provider. Clinovo provides local medical device, biotechnology and pharmaceutical companies with full-service biometrics, such as Clinical Data Management, Electronic Data Capture, Biostatistics and CDISC mapping, as well as clinical Staffing Solutions. By leveraging best-of-breed technology, Clinovo develops and customizes turnkey solutions that accelerate sponsors' FDA submission.
###