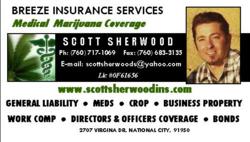 San Diego (PRWEB) November 19, 2011
Many medical marijuana business owners don't know insurance is available for their unique operations. Growers, delivery services and collectives continue to run the risk of no insurance simply because they don't know it's available. Well, the good news is Breeze Ins. Services has new coverage options for collectives, growers, hydroponic stores, landlords, delivery companies and recommendation offices.
Breeze Insurance Services has made it easy to build custom polices. "Telling a grower that you can insure their crop is a good feeling, half the time they don't believe me" says Scott Sherwood, Owner - Breeze Insurance Services. "With the help of a great underwriter, I am able to tailor custom made policies for people who thought they were non-insurable."
Medical Cannabis Insurance comes in the form of Crop Coverage, General Liability, Meds Coverage, Delivery Coverage, Workers Compensation and Commercial Auto Coverage. "I believe, because of the nature of the operations and laws, collectives need much more specialized Insurance then a typical business."
To find out more about Scott Sherwood, Breeze Insurance Services or policy options, http://www.scottsherwoodins.com is a good place to start.
###