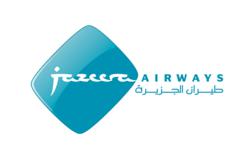 Jazeera Airways announces record Q3 profits, continues record profitability streak for the fifth quarter in a row
Freedom Town, Kuwait (PRWEB) November 01, 2011
In a live webcast with financial analysts, Jazeera Airways Group today announced a nine-months net profit of KD 9.2 million and third quarter (Q3) net profit of KD 6.1 million, up 36% from Q3 2010, making Q3 2011 the Group's fifth consecutive quarter of record-profits since the introduction of the company's Turn-Around Plan in mid-2010, and the best nine-month performance since inception
Jazeera Airways Group comprises a fully-owned aircraft leasing business (Sahaab Leasing) with assets deployed across the world, and a passenger airline business (Jazeera Airways) serving 18 destinations across the Middle East from Kuwait. Jazeera Airways is the largest airline serving the region from Kuwait. The results reflect the consolidated earnings of both business operations.
Q3 2011 Financial Highlights:

Operating revenues: KD 19.3 million, up 38% from Q3 2010
Operating expenses: KD 11.8 million, a marginal increase of 11% from Q3 2010
Operating profit: KD 7.5 million, up 121% from Q3 2010
Net profit: KD 6.1 million, 36% from Q3 2010
Average yield up 42% from Q3 2010
Q3 2011 Operational highlights:

Flown passengers: 337,629
Highest on-time performance (OTP) in the Middle East (as cited by Flightstats.com)
Nine-month Financial Highlights

Operating revenues: KD 44.5 million, up 40% from nine-month 2010
Operating expenses: KD 32.5 million, a decrease of KD 2.7 million from nine-month 2010
Operating profit: KD 12.1 million, compared to an operating loss of KD 1.7 million in nine-month 2010
Net profit: KD 9.2 million, compared to a net loss of KD 4.8 million in nine-month 2010
Average yield: up 44.8% from nine-month 2010
Nine-month Operational 2011 Highlights:

Flown passengers: 902,007
Maintained largest market share on leading routes
Load factor: 67.1%, up 15% from nine-month 2010
Jazeera Airways Group Chairman Marwan Boodai said, "We are glad to report another quarter of record earnings, proving the continued success of the Turn-Around Plan (TAP) and the institutionalization of the business and operational enhancements that were introduced as part of the plan. Today, the Group is well positioned for growth over the coming years."
About the group's Turn-Around Plan:
Since inception in late 2005, Jazeera Airways Group has been profitable every year until 2009, when it registered a net loss for the first time ever due to the overcapacity that was dumped in the market by existing government airlines and new players as well. The Turn-Around Plan was created as a direct response to this situation and aimed at solving this external challenge by resizing its own operations internally, and to ultimately bring the Group back to profitability.
Implemented in May 2010, the Turn-Around Plan included asset redeployment, staff reductions, rigorous cost management, network/market alignment and enhanced commercial offering, which were rolled out over the months that followed.
Snapshot of the last five quarters (net profit):
Q3 2010 KD 4.4 million
Q4 2010 KD 2 million
Q1 2011 KD 1.1 million
Q2 2011 KD 2.2 million
Q3 2011 KD 6.1 million
About Jazeera Airways
Established in 2005, Jazeera Airways Group is a Kuwait Stock Exchange-listed company with over 12,000 shareholders. The company has 11 fully-owned Airbus A320s in operation, distributed between its airline business, Jazeera Airways (6 aircraft), and its fully-owned leasing business, Sahaab Aircraft Leasing (5 aircraft). Sahaab has assets placed with Virgin America, SriLankan Airlines, and Jazeera Airways.
In 2010 the airline carried 1.3 million passengers in total, or 15% of Kuwait International Airport passengers, on 14,156 flights across its network that includes high-demand business, leisure, family, and weekend destinations such as, Dubai, Bahrain, Beirut, Alexandria, Amman, Damascus, Istanbul, Sharm El Sheikh, Assiut, Aleppo, Deir Ezzor, Luxor, Mashhad, Sohaj, Jeddah, Riyadh and Cairo.
For more information: jazeeraairways.com.
Reporters may contact:
Fawaz Al-Sirri + 965 (6) 6622448 / fawaz(at)bensirri(dot)com
###