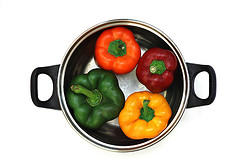 I know there are people with recipes I've never tried and I'm eager to hear from them.
(PRWEB) November 01, 2011
Bell peppers are extremely versatile vegetables that can be utilized as a delicious main course, side dish or low-calorie snack. Sharon Hunter, owner of StuffedBellPeppers.net, has a passion for peppers. He's currently seeking favorite recipes from others who share his fondness for the crisp green vegetables.
"Green peppers are delicious and I'm always looking for new ways to prepare them," said Hunter. "I know there are people with recipes I've never tried and I'm eager to hear from them."
Hunter has assembled an impressive array of stuffed bell pepper recipes, complete with directions on preparing ingredients and cooking instructions. Recipes run the gamut, featuring those from California in the U.S. to Greek favorites.
Fans of bell peppers will find recipes designed specifically for vegetarians, as well as those for meat lovers and those who enjoy spicy selections. Hunter is seeking favorite recipes from others around the world, which they can submit via the website.
Also known as sweet peppers in some locales, they're available in colors that include red, yellow, green, orange, purple and even white, allowing cooks to add visual interest when paired with less colorful cuisine.
Hunter provides traditional cooking methods, as well as microwave techniques for busy individuals. A number of stuffed peppers recipes can be prepared ahead of time and frozen for future use as a healthy snack, meal or side dish.
Stuffed bell peppers fall in the realm of comfort food. They can be combined with any number of ingredients and seasonings for a tasty treat. Peppers can be personalized with rice and gourmet grains, a wide array of meats and cheeses, and even fruits.
Hunter provides extensive examples with the recipes on his website, utilizing elements that include raisins, apples, tofu and quinoa.
Bell peppers are used in fine cuisine worldwide. The delectable vegetables were introduced to Spain by Christopher Columbus in 1493, where cooks eagerly began incorporating them into native dishes and experimenting with ways to cook the new addition to their diets. Bell peppers are commonly treated as vegetables, but are more closely aligned with fruits.
Raw or stuffed, bell peppers are rich in essential vitamins, nutrients and anti-oxidants that fight free radicals responsible for the outward signs of aging. They're widely grown around the world, easily available year round and store well, allowing individuals to enjoy their sweet flavor any time and experiment with new recipes.
Visitors to the site can register to receive email updates or subscribe to the RSS feed. Fans can follow Hunter on Twitter and on Facebook.
StuffedBellPeppers.net provides pepper enthusiasts with a wide variety of international recipes to satisfy any taste. He's inviting individuals from around the world who are enamored with bell peppers to submit their own innovative recipes for the versatile vegetable and try some that are on his website in a spirit of culinary diversification.
Hunter can be reached via email with the convenient form on the website. For more information, visit the website at http://www.stuffedbellpeppers.net.
###