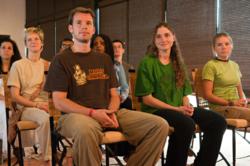 (PRWEB) November 02, 2011
Sadhguru Vasudev will be visiting the New York metro area and Toronto, Canada this November to offer Shambhavi Mahamudra, a yogic kriya that utilizes the breath and the vital energy of the human system to bring about a deep state of meditativeness. The practice is an extension of the new online wellness program Inner Engineering.
Derived from the ancient science of yoga, Inner Engineering and the Shambhavi Mahamudra kriya may help reduce or even eliminate common compulsive behaviors and addictions. It has been a welcome relief for many struggling with some of the most prevalent dependencies, including tobacco, alcohol, and illicit drug abuse—cigarette addiction alone affects 23% of the U.S. population (70M people). Inner Engineering has also been reported to help relieve common psychological compulsions such as overeating, gambling, and the growing problem of sexual addiction.
Because Inner Engineering offers a meditative process and not the vigorous yoga she was used to at the gym, attorney Maria Blakemore hadn't expected to lose weight as a result of participating in Inner Engineering. "This one course completely changed my life… I went from being someone who ate anything, including McDonalds, Kentucky Fried Chicken, etc. to someone who, immediately after the class, decided to completely drop chicken, beef and pork from my diet. I have lost approximately 30 pounds, and 25 of the 30 pounds were lost within the first three months," emphasized Maria. "Inner Engineering however, is not really about losing weight. It is about balance. Losing weight or gaining weight (for those who are underweight) is something that happens once balance comes into your life."
Musician Kirk Morton of Nashville found a renewed zeal for life and kicked several addictive habits he'd been struggling to overcome for years. "The (Inner Engineering) yoga practice has enabled me to overcome serious depression without medication and a 3-pack, 30-year cigarette habit with no withdrawal or cravings," said Kirk of Nashville, TN. "It has enabled me to stay away from drugs and alcohol, to clean up my diet, and exercise…It has deepened and changed me in such profound ways that I cannot express. This yoga is a miracle."
Sadhguru, who designed the Inner Engineering program, says what seems to be miraculous is simply a by-product of raising human consciousness. "Every aspect of your life, a human being is capable of making it conscious... Once it's a conscious process, it is not something which is compulsively working within you; it is something that you decide," Sadhguru explained in a recent talk. "That is how human life should be. Isn't it? Everything you decide. You're not pushed or pulled into anything... how much of what you need in your life can be decided by you."
As Sadhguru explains it, the object of the compulsive behavior, whether it be food, gambling, or cigarettes, doesn't matter; It is the subconscious drive behind the behavior which needs illumination. The simple 21-minute practice of the Shambhavi Mahamudra kriya elevates a person's conscious awareness. With increased awareness, the subconscious drive behind the addiction loses its power to control your life.
"I was a regular user of cocaine just prior to taking the class with Sadhguru…I was so stressed-out that I didn't have any moments of peace in my life, nor did I know I was 100% stressed out," admits Denise Waters, a salon owner outside Chicago. "I credit Sadhguru for helping me learn how to see things differently and have stayed off cocaine with an effortlessness for which I am most grateful… that chapter of my life has been closed."
Medical studies are currently underway to quantify many physical, mental and emotional benefits of the Inner Engineering program. Initial research findings reveal benefits across a broad-spectrum. Sadhguru will be hosted in New Jersey, November 5th – 6th, and Toronto, November 12th – 13th to offer Shambhavi Mahamudra, a simple daily yoga practice that is part of the Inner Engineering program (The Inner Engineering online program is prerequisite for attending the Shambhavi class). See http://www.innerenginnering.com or call 877.831.2705 for more information.
###