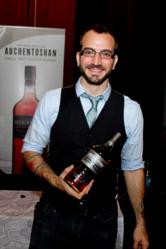 I am so proud to represent the US for the Auchentoshan Switch. You brought the best of the best bartenders in the country together to work with a great brand like Auchentoshan. It was a fantastic night! - Charles Joly
Glasgow, Scotland (PRWEB) November 01, 2011
Two bartenders, an ocean apart are excited and ready to pack their bags, cross the pond, switch countries and 'jobs' for two weeks as the winners of the first ever trans-continental Auchentoshan Switch. Auchentoshan® Lowland Single Malt Scotch Whisky, Scotland's only triple-distilled single malt, is happy to announce that the deserving winners of the Auchentoshan Switch bartender swap are: Charles Joly from The Drawing Room in Chicago, US and Martin Ball from Corridor Bar in Manchester, UK. Both competed in grand finale challenges this past week in London and Las Vegas against 19 of their fellow countrymen, and in three rounds of fierce cocktail competition emerged as the winners. At the Las Vegas showdown, hosted by United States Bartender's Guild ([USBG), excitement and some friendly competitive banter ran high as many of the bartenders were familiar and friendly with each other but all had their eye on the prize -- a two week trip to London to work for Tony Conigliaro in early 2012 at his famed 69 Colebrooke Row bar and Drinks Factory, one of the only bar-related drinks labs in the world.
Winner Charles Joly said "I am so proud to represent the US for the Switch to 69 Colebrooke Row. You brought the best of the best bartenders in the country together to work with a great brand like Auchentoshan. I can't wait to discover more about molecular mixology from Tony and bring back what I've learned to the Drawing Room. It was a fantastic night!"
Images of the Auchentoshan Switch final challenge can be found here http://flic.kr/s/aHsjwHmTwh
Auchentoshan is a brand treasured by whisky aficionados and bartenders alike as one of the smoothest whiskies, thanks to its triple distillation, and perfect for thoughtful sipping as well as the ideal base spirit for a cocktail. Which came in handy at the Auchentoshan Switch finale, held at House of Blues in Las Vegas, where Auchentoshan Three Wood was the spirited star of the night. This unique and complex Auchentoshan expression has been matured in three different cask types – first in American Bourbon then to Spanish Oloroso Sherry and finally in Pedro Ximenez Sherry casks. Auchentoshan pioneered the three cask maturation process.
Hannah Fisher, Auchentoshan Brand Manager who flew directly from the UK Switch competition to the US said: "It's really quite incredible to see the interest we've had in our inaugural year of the Auchentoshan Switch - so many exceptional bartenders entered from the US and UK! We were so impressed with the time, commitment and seriousness each bartender brought to the challenge knowing that the prize is not $100,000 but it's actually to WORK! It just proves to us how dedicated these hardworking bartenders are to their craft and I'm so happy Auchentoshan can be a part of expanding their cocktail knowledge. A big congratulations to Charles and Martin from the entire Auchentoshan team. We can't wait to hear - and taste - more from them next year when they make the switch."
Judges David Clelland (International Auchentoshan Whisky Specialist), Camper English (author/http://www.Alcademics.com, winner of Tales of the Cocktail 2011 Best Cocktail Writing award) and Andrew Pollard (VP, United States Bartender's Guild Las Vegas Chapter) deliberated through three rounds of challenges:

In Round One all 20 bartenders were asked to create an original Auchentoshan cocktail, something that would show off their creativity and presentation as well as the rich toffee and sherry oak flavors of Auchentoshan Three Wood.
Five bartenders advanced to Round Two, where they were presented with six mystery ingredients and tasked with creating an Auchentoshan Three Wood cocktail that contained at least two of those mystery ingredients
And then there were two -- Charles Joly and Clinton Terry (from PX, Alexandria) - who moved on to compete head to head in Round Three where each had to present a 'master class' on Auchentoshan Three Wood to the judges (and a crowd of their peers). Based on his scores and final presentation, Joly was named the US winner of Auchentoshan Switch 2011.
"It was a really difficult decision to make at each round because the caliber of bartenders was so high," said judge David Clelland. "I think the number of entries we had for Auchentoshan Switch shows how truly professional these bartenders are and how far they'll go to advance their knowledge and craft. We were quite fortunate to have such a pool of talent to judge."
To enter the Auchentoshan Switch challenge, all bartenders were asked to submit a video of themselves making a lemonade and an Old Fashioned cocktail with Auchentoshan Three Wood. To see Joly's video entry, click here - http://www.youtube.com/watch?v=wtzUj6HvhiM
About Auchentoshan Single Malt Scotch Whisky
The award-winning Auchentoshan portfolio includes Auchentoshan Classic, 12 Year Old, Three Wood, 18 Year Old and the limited release 21 Year Old, in addition to select vintage, limited edition releases. Auchentoshan is available nationwide in the US and in more than 45 countries worldwide. The Auchentoshan portfolio is imported to the US by Skyy Spirits, LLC. Auchentoshan recently relaunched its website at http://www.auchentoshan.com. Join the Auchentoshan conversation on Facebook.
About Skyy Spirits, LLC
The eighth-largest spirits company in the US, Skyy Spirits, LLC is a wholly owned subsidiary of Davide Campari-Milano S.p.A. (Reuters CPRI.MI - Bloomberg CPR IM), together with its affiliates Gruppo Campari. Launched in 1992 with the introduction of its flagship brand, SKYY® Vodka, Skyy Spirits has grown exponentially, building a portfolio unrivaled in its quality, innovation and style, making it a top choice among distributors, retailers and consumers. Skyy Spirits manages Gruppo Campari's portfolio in the US with such leading brands as SKYY® Vodka, SKYY90®, All Natural SKYY Infusions®, Campari®, Wild Turkey® Straight Kentucky Bourbon, American Honey®, Russell's Reserve®, Glen Grant® Single Malt Scotch Whisky, Cabo Wabo® Tequila, Espolón® Tequila, Ouzo 12®, X-Rated® Fusion Liqueur®, Frangelico®, Carolans Irish Cream®, Irish Mist® Liqueur, Sagatiba® Cachaça and Jean-Marc XO Vodka®. Skyy Spirits is also the exclusive US distributor of The Glenrothes® Single Malt Scotch Whisky, Bowmore® Islay Single Malt Scotch Whisky, Auchentoshan® Lowland Single Malt Scotch Whisky, Glen Garioch® Highland Single Malt Scotch Whisky, Flor de Caña® Rum, Midori® Melon Liqueur, Hibiki® Whisky and The Yamazaki® Single Malt Whisky. Skyy Spirits was founded and is headquartered in San Francisco, California. More information on the company can be found at http://www.skyyspirits.com, http://www.facebook.com/skyyspirits, Twitter: @SkyySpirits and http://www.camparigroup.com. Please enjoy Skyy Spirits brands responsibly and in moderation.
###