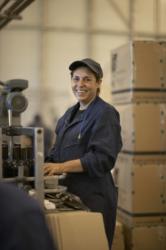 I got such rave reviews on my chili, who knew doing something wonderful for someone could taste so good
Milwaukee, WI (PRWEB) November 02, 2011
IamAForce4Good, LLC is at it again. They have partnered with a new women's shelter, where for various reasons have lost custody of their children. Through the shelter and the work they do, they are trying to get their lives and family back on track.
The shelter has "Inspirational Bean Soup and Spicy Chili" that is being distributed by the IamAForce4Good Company. With the sales of these mixes IamAForce4Good is helping get these women back on track to a life of normalcy, and get families back together.
We caught up with one of the top producers in the company, his name is Mark Vogel from Wisconsin, and asked him about the mixes. "Well it's just great food basically" he said. "We get to have another great product to offer people. Our customers get good wholesome food for the fast approaching winter months. At the same time we get to do some pretty great things for the women and children, by assisting with the program to get families back together again. I don't see any downside here at all."
When asked what other programs IamAForce4Good is working on, he replied with a smirk "Sorry but I can't let the cat out of the bag just yet" You can be sure we have not heard the last from this new and awesome upstart young company!
###