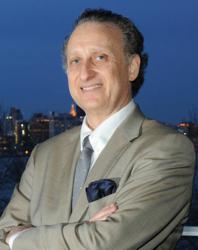 Dr. Korwin advises that "Flossing, brushing and proper mouth rinses will reduce bacterial concentrations in the mouth, and control the numbers of bacteria entering the lungs."
Middletown-Red Bank, New Jersey (PRWEB) November 29, 2011
Lung Cancer Awareness Month in November is dedicated to increasing attention to lung cancer issues by supporting a disease that each year kills more people than breast, prostate, colon and pancreatic cancers combined. Dr Korwin provides key dental procedures to improve oral health and help prevent infections, inflammation and pathology throughout the body.
Studies show the potential link between gum disease and illness in other systems of the body.
Dental gum disease researchers at Imperial College in London and Harvard University studied the statistical health records of 50,000 patients from data collected over 21 years found there was a 33% increase in the risk of lung cancer among those with gum disease.
A recent study at the ITS Centre for Dental Studies & Research in Ghaziabad, India, with 200 participants found that patients with respiratory disease had worsened periodontal health than controls, suggesting a relationship between respiratory disease and periodontal disease. Researchers suspect that the presence of oral pathogens associated with periodontal disease may increase a patient's risk of developing or exacerbating respiratory disease. Respiratory infections, such as pneumonia and the exacerbation of chronic obstructive pulmonary disease, involve the aspiration of bacteria from the oropharynx into the lower respiratory tract.
Preventing accumulation of bacteria in the oral cavity will reduce the numbers of bacteria introduced into the respiratory tree, and prevent the pathology which can lead to respiratory diseases such as chronic obstructive pulmonary disease (COPD) and pneumonia.
Dr. Korwin advises that flossing; brushing and proper mouth rinses will reduce bacterial concentrations in the mouth, and control the numbers of bacteria entering the lungs. Coaching for oral health is an important part of preventive dental care, and is performed with every dental hygiene visit and cleaning at Advanced Dentistry with a Gentle Touch in Red Bank-Middletown New Jersey.
For more information, please visit Drkorwin.com or call (732) 219-8900.
About Advanced Dentistry with a Gentle Touch:
Dr. Korwin has emphasized the importance of the link between oral bacteria and systemic disease for the past thirty years. To diagnose this hidden problem, his family of patients has always been screened at every visit for the presence of periodontitis. The present population has kept their teeth longer than in the past. More evidence is being published about the correlation between periodontal inflammation and systemic disease, and it is even more important to bring this information to you. With a long record of interceptive and preventive oral health care to help control and prevent oral disease, Dr. Korwin promotes the good news that by flossing daily, along with regular professional cleanings the public can protect their health and help prevent gum disease. For further information about flossing and health visit Flossing for Life.
Robert Korwin DMD, MICOI, MAGD, is a renowned general dentist, teacher and innovator practicing in Middletown and Red Bank, New Jersey. With extensive academic, clinical and didactic training, Dr. Korwin is one of only a handful of dentists worldwide who have dual Mastership awards from The Academy of General Dentistry and The International College of Oral Implantologists. Dr. Korwin promotes excellence in preventing orally linked disease and provides highly cosmetic dental repair and reconstruction utilizing orthodontics, implants, surgery, prosthetics and sedation, with laser, digital and computer assisted diagnostics. The practice works with patients to maximize their dental health, ensure their comfort and minimize financial concerns.
###