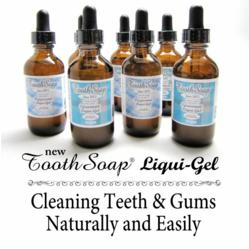 I chose glass this time because some Tooth Soap® customers prefer glass over plastic, even a plastic that is BPA-free
(PRWEB) November 02, 2011
Tooth Soap® Liquid has been a steady seller in the market for years but there has been growing customer demand for a Tooth Soap® Liqui-Gel formulation, says Karen Van Cleef, founder and CEO of Tooth Soap, Inc. "For years I wanted a thicker liquid but we weren't able to perfect it. Finally, we were able to create a thick gel with the desired consistency that I have been dreaming about."
Tooth Soap® has four different types available to customers with several flavors, but this gel is unique as it offers greater value to the customer. "Tooth Soap® Liqui-Gel is twice as thick as our regular Tooth Soap® Liquid, and is more concentrated so you need less. We expect Tooth Soap® Liqui-Gel will last twice as long as Tooth Soap® Liquid or Tooth Soap® Gel. If the bottle spills, the thicker Liqui-Gel will not pour out, thus saving product," states Van Cleef.
Tooth Soap® Liqui-Gel is packed a brown amber glass bottle to protect the delicate essential oils and maintain the integrity of the product. "I chose glass this time because some Tooth Soap® customers prefer glass over plastic, even a plastic that is BPA-free," says Van Cleef.
"Regardless of a person's preference, Tooth Soap® Liqui-Gel, along with Tooth Soap® Liquid, Tooth Soap® Whip, Tooth Soap® Gel and Tooth Soap® shreds, continue to provide consumers with an all natural, organic alternative to toothpaste," says Van Cleef. "Slowly but surely, the understanding that toothpaste is not the optimal way to brush your teeth and gums is growing!"
About Tooth Soap, Inc.:
Tooth Soap, Inc. is an emerging speciality oral care products company focused on the development of a portfolio of natural and non-toxic oral care products for consumers. For further information about Tooth Soap, Inc., please visit our website at http://www.ToothSoap.com
###