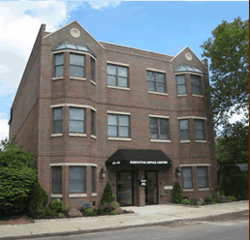 Attorneys who would like to meet a client in Queens during the month of November are invited to utilize the office space and sample the building services free of charge.
Queens, NY (PRWEB) November 01, 2011
Since opening a little more than a year ago, The Executive Office Center at Fresh Meadows has drawn 28 law firms to its roster of tenants. The Executive Office Center is the first executive suite center to open in the borough of Queens, offering serviced office space and virtual office services, and attorneys have found that it suits their needs perfectly.
The latest firms to join the Executive Office Center at Fresh Meadows include the Law Office of Barry R. Gogel, Esq. PC, Attorney Steven Gilden, The Felicetti Law Firm, AJ Gallo Associates, PC, Eric C. Firestone Law Office, Darshan & DeCicco, Attorneys at Law, and Gordon Legal, PC.
"One of the reasons, the Executive Office Center is so attractive to attorneys is the ease with which they can open for business," said Executive Director, Jack Blumner. "All the offices are furnished and equipped with telephone and broadband service. What's more, unlike most executive office centers, full-time tenants at the Executive Office Center pay just one monthly fee that covers all of their expenses, including lobby reception, telephone answering, internet, utilities and cleaning. Attorneys also feel right at home amidst the cherry stained furnishings and plush elegance of the conference room."
Many of the attorneys who have joined the Executive Office Center have offices in other locations in New York and out of state.
"I've discovered that there are a lot of attorneys with practices outside of Queens, but do a sufficient amount of business in the borough – or want to do more business here – to warrant establishing a presence here," said Mr. Blumner. "Some of these attorneys have leased office space in the building. The others have taken advantage of the virtual office services offered by the business center."
If you don't need an office on a full time basis – and many attorneys don't – you can become a virtual tenant at the office center for as little as $39/month. You can view the full menu of virtual office options at http://www.executiveofficefm.com/virtual.htm.
The unique business model of the Executive Office Center also includes free marketing support for its tenants and virtual tenants on its two consumer websites, http://www.everythingunder1roof.com and http://www.queensforless.com.
"It doesn't surprise me that there is such a strong need for flexible and economical work space in Queens," said Mr. Blumner. "Queens County has a population of 2.3 million people. If it was classified as a city rather a borough, it would be the third most populous city in the United States. It is also the most culturally diverse county in America, with large populations of Hispanics, Chinese, Koreans, Filipinos, Indians and Pakistanis."
About the Executive Office Center at Fresh Meadows:
The Executive Office Center at Fresh Meadows is the premiere provider of serviced office space and virtual office services in Queens, New York. It is perfect for attorneys in need of a full-time or part-time professional address in Queens. Day suites and conference rooms are also available to business travelers to New York at hourly, daily and weekly rates. High quality video conferencing services are also available at the office center.
For further information, visit the Executive Office Center at http://www.executiveofficefm.com, or call Associate Director, Mary Abrams, at 718-475-2121.
# # #