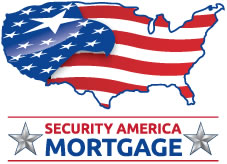 VA loans allow veterans to qualify for loans amounts larger than traditional Fannie Mae / conforming loans.
(PRWEB) November 30, 2011
Security America Mortgage & Realty, the VA Loan Specialists, expands its reach as a Mortgage Lender to North Carolina to better serve regional Veteran Home Loan needs. By achieving this goal, Security America Mortgage & Realty is now a licensed Mortgage Lender in Arkansas, Colorado, Florida, Louisiana, North Carolina, Oklahoma, and Texas.
Security America Mortgage & Realty is led by:

Sebastian Burfitt - Houston, Texas
Jason Noble - Houston, Texas
The Benefits to Using a VA Loan are No Money Down, Lower Interest Rate, and a Lower Monthly Payment
As of 2011, The Department of Veterans Affairs currently guarantees $58 Billion worth of VA Home Mortgages, yet less than 10% of eligible Veterans use their home loan benefits. Security America Mortgage's goal is to educate all Veterans as to their VA Home Loan Benefits.
NO Money Down
VA Home Loans do not require a down payment.
The VA Loan Program is the only loan available that allows for $0 down. With the tightening of the mortgage market, it is becoming harder for those to obtain financing because of the large down payment requirements. Because of the VA's Guarantee, eligible Veterans are NOT required to put any money down! This could potentially save you tens of thousands of dollars in out of pocket expenses, that's money you could use to move, decorate, upgrade or renovate the home you purchase.
Lower Monthly Payment & Lower Monthly Rate
VA Home Loans have NO Mortgage Insurance... this can save you thousands a year.
Unlike Conventional and FHA loans, VA Home Loans have NO Mortgage Insurance. The mortgage insurance for Conventional and FHA loans are typically between .5% and 1.25% per year. Additionally FHA charges 1% in Up Front Mortgage Insurance. This can cost you thousands of dollars a year. Why would you pay for mortgage insurance that you don't need? The VA Home Loan does not require mortgage insurance making your total monthly payment lower and more affordable.
Security America Mortgage Benefits
Security America Mortgage works exclusively with Veterans. This means we are experts in the VA Loan Process, VA Loan Guidelines, and VA Loan Qualifications. Our vast experience in VA Home Lending makes our process quick and easy. Our VA Experts will be there with you from beginning to end, working to make sure everything is in order so that your VA Home Loan is a smooth transaction.
Security America Mortgage is a VA Approved Lender
Security America Mortgage works exclusively with Veterans
Security America Mortgage's VA Experts make the VA Home Loan process quick and easy
# # #