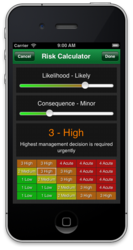 iJSA means workers can identify risks that could have otherwise gone unreported because of the hassles of paperwork
(PRWEB) November 01, 2011
SafetyCulture, the leading source of safety documentation, today announced their iJSA app - a revolutionary way for workers in all industries to perform a Risk Assessment, commonly referred to as a Job Safety Analysis (JSA). iJSA is available on all iOS devices, and allows workers to perform Risk Assessments with ease and a level of detail that has never been seen in the safety industry.
With iJSA, workers have the ability to use their iPhones and iPads to identify a risk on site, photograph it, identify a control measure and flag for follow up within seconds.
The exciting integration of Google Maps utilises GPS to provide the worker with a map overview of their job sites, and fast-tracks the JSA process by auto-filling addresses from Google's GPS database. iJSA allows an unlimited number of worksites and workers to be managed through the app.
The advanced iOS system means that users can digitally sign-off on a risk on their device's screen, and have their signature printed out on a PDF that can be emailed back to their office.
"iJSA means workers can identify risks that could have otherwise gone unreported because of the hassles of paperwork." says Luke Anear, Managing Director of SafetyCulture Australia.
"It streamlines the reporting process by empowering workers, and it bridges the gap between concept and implementation in regards to workplace safety."
iJSA is available for free download from http://www.safetyculture.com.au/ijsa
About SafetyCulture
SafetyCulture helps workers and employers with their Occupational Health and Safety (OH&S) requirements. By implementing practical & effective solutions, SafetyCulture reduce the financial and time burden on complying with safety legislation. For more information visit SafetyCulture at http://www.safetyculture.com.au
###