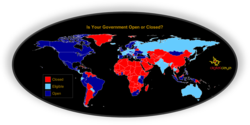 Now openness is the new standard for nation states to be credible actors in world affairs.
Washington, D.C (PRWEB) November 01, 2011
The Digital Policy Council (DPC), an international, non-partisan "think tank" on 21st Century Governance, discusses in its latest report how global politics is being reconfigured along a new international order based on the openness of governments and the levels they undertake to engage their citizens.
The DPC is the research and public advocacy arm of Digital Daya ('digital influence'), a next generation strategic consultancy that empowers government and corporate leaders to leverage the new media of the Internet to build influence and shape public opinion.
Historically political leaders have tended to prefer dividing the world in two; asserting an "us" vs. "them" perspective for nations to forge coalitions whether communist vs. capitalist, developed vs. developing, or democratic vs. autocratic. The two-part picture was marked once more when the Open Government Partnership (OGP) launched with a gathering of heads of state and senior officials in New York on September 20th, 2011. The aim of this new multilateral initiative is "to secure concrete commitments from governments to promote transparency, empower citizens, fight corruption, and harness new technologies to strengthen governance."
The Digital Policy Council's analyses reveal currently 21% of the World's nations are deemed to have open and transparent governments, 15% meet the eligibility criteria for earning an open designation and a majority of two-thirds (64%) remains classified as being closed with non-transparent governance structures in place. This now raises the visibility and differentiation of governments who are not mere democracies but are explicitly challenged to be both democratic and open. View the interactive world map of open vs. closed nations at http://www.digitaldaya.com/opengov_map.
The Politics of Identity
The democratic peace theory advocates that democracies rarely, or even never, go to war with one another. The simple idea is that democratic leaders must answer to the voters for war, and therefore have an incentive to seek alternatives; as such heads of state tend to settle matters by discussion, not by arms. This political doctrine promoted by the past four U.S. administrations has fostered a foreign policy that democracy is worth encouraging and even fighting for.
However, efforts to promote democracy to date has shown mixed results and proven to be a necessary, but not sufficient element of governance to prevent failed states and secure lasting development for nations. An open government according to the OGP is based on passing a 16-point rating system to determine the level of commitment to transparency by each nation. The essential criteria include a transparent budget for fiscal responsibility, a freedom of information act providing constitutional guarantees for public access to government information, the asset disclosures of government officials to thwart corruption, and warranties for over sixteen assorted civil liberties from religious freedom to Internet access.
"Now openness is the new standard for nation states to be credible actors in world affairs," said Omar Hijazi, Managing Partner at Digital Daya. "The question for governments is not so much as to whether or not they are democratic, but rather if they hold the trust and support of civil society."
While the democratic peace theory was a policy for inhibition of warring nations, for 21st Century politics it is being replaced by the doctrine of openness as a containment of civil unrest.
New Media is Sidestepped
Government 2.0 or "Gov2.0" commonly refers to technology-based initiatives for building transparency, participation and collaboration into the government process, specifically using new media architectures founded on social media, cloud computing, and open data. It was a group of these tech-savvy enthusiasts that were behind the Open Government declaration issued back in December of 2009 by President Obama which served as the catalyst for a grassroots open government movement. Today, 42% of all governments around the globe have varying breadth and depth of initiatives surrounding Government 2.0 from beginning experimentations to advanced implementations.
Ironically, while the fundamental mission statement of the OGP includes the directive to "…harness the power of new technologies to make government more effective and accountable", there is a definite lack of measures in the scoring systems that would drive this behavior.
Many political crises over the last year have been attributed to the new media of the Internet; they are best exemplified by the political activists sites on Facebook of the Arab Spring, the anti-secrecy, web editorial site of Wikileaks that released the controversial diplomatic cables, and the Twitter sites that were used to organize mass protests such as the London riots. It is no wonder that Governments have become very wary and concerned over this disruptive technology.
Nevertheless, people behave as they are measured, including government officials – as such leaving out any empirical metrics that would drive forward the adoption of collaborative new media technologies is a serious impediment to progressing truly open governance. In the research report, the DPC outlines a rating system for measuring adoption of new technologies that should be given consideration in defining added success measures for an open government program.
Muddy the Waters?
The issue of transparency and freedom of information is a growing topic of interest across the globe. In tracking over 400,000 conversations on the social web from the first announcement by U.S. President Obama back in December of 2009 to the most recent Open Government Partnership event this September in New York, the DPC identified a steady increase in the average postings on the Net quadrupling from 250 per day to the current level of approximately 1,000 per day. Conspicuously in recent months, negative sentiment has outnumbered positive by a factor of 3 to 1 due to rising concerns over the future of open government as originally envisioned.
For instance, in the wake of the August riots in London , David Cameron publically called for the right of the government to restrict access to social media to quell future disturbances. "Free flow of information can be used for good," he told Parliament. "But it can also be used for ill." Paradoxically, the Prime Minister received swift praise from China on the sound policy choice and condemnation from Iran for conspiring to violate human rights.
Since the Arab Spring began in Tunisia last December, a wave of revolution and new reflections has swept into large parts of the Middle East. During the 2011 Global Arab Business Meeting held recently in the UAE, the charismatic host of the event, H.H. Sheikh Saud Al Qasimi, the Ruler of Ras Al Khaimah, called upon all "governments to have the courage to be transparent whereby they can address challenges and institute good governance."
Through the OGP, 46 nations are now committed to improve transparency, openness and civic engagement. As these countries create and reach their goals for openness, we may soon behold a political vista in which nations of the world are recognized as either open or closed.
For more information download the report at http://www.digitaldaya.com/epetition.php?id_petition=68.
Digital Daya welcomes all interested parties to track the latest developments in Government 2.0 on LinkedIn @ http://linkd.in/nextgen-gov
About The Digital Policy Council™
The Digital Policy Council (DPC) is an international, non-partisan 'think tank' that promotes good governance and policy-making. The research and policy arm of the management consultancy firm Digital Daya™, DPC's mission is the advancement of open discourse on issues of inclusive governance through the use of the Internet and Web 2.0.
Contact:
The Digital Policy Council
http://www.digitaldaya.com/
U.S. +1-202-379-4787
UAE +971-4-313-2086
Malaysia +60-3-2168-4201
Email: public_relations(at)digitaldaya(dot)com
###