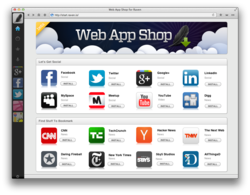 Raven brings interoperability, discovery and multi-tasking never imagined before. Raven is a step forward in making the web work in a more unified and friendly way.
Oxnard, CA (PRWEB) November 01, 2011
Raven, a new web browser for Mac (http://raven.io) that allows customers to add web apps effortlessly into it a side bar called the Smart Bar has surpassed 100,000 web app installs in the first three weeks of it's public beta.
"We are very excited and pleased the Raven Web Browser and it's innovative Smart Bar are being adopted so quickly by the Mac community," remarked co-founder Kevin Milden. "Web Apps are being downloaded and installed at a rate of about one every 15 seconds. To keep up momentum we are adding more highly requested unofficial web apps to the Web App Shop that customers can download today. This brings the total to 50 with popular titles such as iCloud, Pandora, Amazon, Ebay and Tumblr," Milden added.
Although the new Raven web browser is only in beta, during the past three weeks the team has introduced 50 new apps into their Web App Shop, debuted an entirely new user interface and have added highly anticipated features requested by customers. What sets Raven apart from most browsers is the innovative way in which it allows you to install web apps with a single click. Unlike extensions or add-ons, Raven's web apps are the centralized way you navigate the web, discover new sites and effortlessly switch between them. Web Apps can be added by simply visiting Raven's Web App Shop (http://start.raven.io) and clicking an install button. Although not officially supported, Raven has integrated a number of key websites, apps and social networks such as Facebook, Google+, and Twitter. Additional innovative features include the ability to browse your history, read your favorite blogs in a text-only as well as switch to single column mode to utilized mobile web apps as desktop clients.
"Raven is different," explains co-founder Thomas Ricouard. "Rich clients provide a better, faster and more integrated experience than web browsers do. Web browsers could do a better job than what extensions, bookmarks, windows and tabs can provide. The browser could be a better partner for how we browse the web, use apps and collect content. Smart Browsers like Raven bring interoperability, discovery and multi-tasking never imagined before. Raven is a step forward in making the web work in a more unified and friendly way," added Ricouard.
The Raven development team is hard at work on both a web app submission process and software development kit that will allow third-party developers submit their creations to be added to Raven's integrated Web App Shop. "We believe there is a better distribution model than web app developers having to depend on search engines, blogs and ads to drive traffic to their web-based services." explains Milden. "The barrier is just too high for consumers to sign-up and manage all of these subscriptions as well as too expensive for developers to acquire new customers. The Web App Shop and Smart Bar provide a better way to find web-based tools and organize them into a workflow that is simple an intuitive."
Raven for Mac is free and available for download to anyone running Mac OS X Snow Leopard 10.6+ by visiting their website at http://raven.io.
About RavenCo Software
Ravenco Software aims to lead the next era of personal computing by reinventing how the client and the cloud cooperate. The company's initial product Raven, a web browser that revolutionizes the way people discover, utilize, distribute and develop web applications uses an integrated Smart Bar and Web App Shop to facilitate their mission.
###