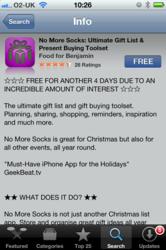 Low prices found across the App Store continue to pose a significant barrier in purchasing decisions
Cheltenham, England (PRWEB UK) 2 November 2011
The gift buying toolset, No More Socks for iPhone normally sells well at this time of year as people start to think about Christmas and all the presents they'll need to buy. However, when Food for Benjamin Ltd, the app's indie developer from Cheltenham, England, dropped the price down to free on Friday morning they were shocked by the result.
"We obviously expected to see a marked increase in downloads." said Duncan Abbott, the app's creator. "But the reality was way beyond expectations."
"My prediction was a two- or three-fold jump resulting from exposure on websites that monitor price-drops on the App Store, but what we saw was a upturn of more than 900% on the first day."
This seems to show that even iPhone users have an insatiable appetite for free apps and the relatively low prices found across the App Store continue to pose a significant barrier in purchasing decisions.
Whether this is due to a fear of poor quality apps or a lingering uncertainty about what is still a very new medium is still open for debate, but it's an important issue that developers continue to wrangle with, in the still-infant app economy.
Regardless of the wider implications, Food for Benjamin are pleased with the results of their experiment. "We're just pleased that so many people will be using No More Socks to organise their Christmas this year and have extended the offer." said Mr Abbott.
No More Socks will be available on the App Store free of charge until Sunday evening (6th November). Grab it while you can.
###