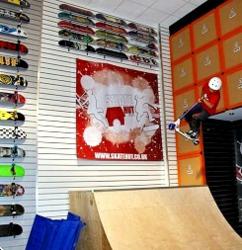 (PRWEB) November 02, 2011
A state of the art website has been launched by leading skateboard retailer, and together with a brand new 5000 sq. ft shop, the online and offline shopping experience is even more exciting with Skatehut.
Skatehut.co.uk has been transformed to make shopping online for skateboards, decks, micro scooters, longboards, Heelys and other cool skate gear even more convenient for avid skating fans, and with an impressive social media presence, the team at Skatehut can provide the ultimate comprehensive online experience which covers everything from shopping, skating advice, videos and a fun social aspect to the skate world.
The shopping site now features top level shopping categories (including skateboards, longboards, skates, scooters, bikes, protection and clothing) and a shop-by-brand facility, a section for the most popular products, a section for the latest arrivals, a feature of staff picks, a Skatehut skate team page which displays the latest talents, a page dedicated to special offers and clearance products, and also a live Facebook feed so social media fans can get a sneak peek of the latest updates.
The cool new website is complimented by a state of the art shop floor in Halesowen in the West Midlands, and the 5000 sq. ft store is brimming with the latest skating gear. Featuring the raw, designer look of red brick, a trendy mix of wood panelling, a stylish chill out area and its very own half pipe, the Skatehut building is much more than just a place to shop; it's a place for skaters to hang out. Even the Skatehut cash desk is created from wood to resemble the globally recognised half pipe, and the look of the entire shop is one of 'understated designer', but most of all, the new shop is just a very cool place to hang out.
Together with the new website launch, the staff at Skatehut are delighted to be improving the shopping experience for all of their customers, both online and offline. For website shoppers, next day delivery is available at the standard delivery charge for any orders over £30 so online skate fans can get their gear as soon as possible, and the popular shopping site has already been named the 'UK's number 1 online skate shop' by Experian Hitwise earlier this year.
Skatehut.co.uk aims to live up to the grand accolade and encourages any avid skaters to stay connected through Facebook, Twitter or YouTube so they can provide a full online experience for young people who love to skate. The social concept is evident both in the West Midlands based Skatehut store and the brand new Skatehut website.
There are exciting times ahead for the Skatehut team and they are thrilled to be able to meet the growing demands of skateboards and skating equipment with their new website and new Halesowen shop.
ABOUT SKATEHUT
SkateHut was established in 2007, as a family run business specialising in the popular brand, Heelys. The business expanded quickly, taking on a range of brands and products, including Santa Cruz skateboards, Renner Skateboards, Micro scooters, JD Bug Scooters, Razor electric scooters, Redline BMX bikes, Vans shoes, adult and kids clothing, and more.
The online retailer also has a stylish shop front connected to its huge product warehouse, and the retail store features unique themed interiors and specialist street artwork. SkateHut are continually adding to their range of skateboards and scooters and have recently added MADD gear Pro to their selection.
CONTACT
SkateHut
Unit 2, Block 2
Shenstone Trading Estate
Halesowen
Birmingham
B63 3XB
0121 501 1111
sales(at)skatehut(dot)co(dot)uk
http://www.skatehut.co.uk
###