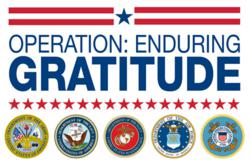 They came home battered and severely wounded and now we need to show them our support.
Tampa, Florida (PRWEB) November 03, 2011
Award Our Brethren & Reel in a Veteran
Unfortunately, most veteran appreciation ceremonies happen after the death of the veteran. Operation: Enduring Gratitude is trying desperately to change that. Among the many initiatives listed on OP-EG's website, http://www.op-eg.org, are plans for an all expense paid First Class Fishing Trip awarded to former U.S. Military Special Operations Command's (SOCOM) veterans, wounded and recovering in the Greater Tampa Bay Area.
"They came home battered and severely wounded and now we need to show them our support." says OP-EG's Founder/CEO and vet, Garza, "What better way to show our gratitude than have a fishing trip in the Florida sun, like brothers."
Their journey to the Florida Keys begins on December 16th; they bait hooks on the 17th and then head back to Tampa on the 18th. Help OP-EG prove to these men and woman that their sacrifices and losses will always be appreciated!
Corporate America and individuals alike are being asked to donate and support this event. With this trip less than a month away, Dan is asking all of us to rally for the troops! Sponsors are needed for travel, food, and lodging as soon as possible. To support this cause, please visit the Operation: Enduring Gratitude Website.
OP-EG was created by Dan Garza, former Army Ranger, to develop innovative means and methods to identify, recognize and show gratitude to ALL U.S. Military Veterans while they are still with us. How is Operation: Enduring Gratitude accomplishing this task?
OP-EG's core efforts revolve around petitioning ALL U.S. States to adopt a policy that allows the Department of Motor Vehicles to identify a military service person by their drivers' license. This simple, State certified identification allows a veteran to be quickly recognized without the need for cumbersome military documentation. Ohio, Oregon, Arkansas, Florida and Texas have all seen the merit to OP-EG's Veteran's Identification Program (V.I.P.). With 45 States left to go, OP-EG needs ALL the support it can get.
If you'd like more information about this topic, how to contribute, or to schedule an interview with Dan Garza, please him at 727.226.0588 or email him at dan(at)op-eg(dot)org.
###