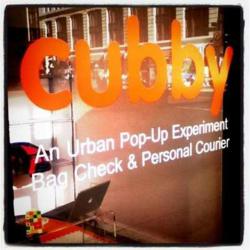 I think it's fabulous!
New York, NY (PRWEB) November 01, 2011
After a month of overwhelmingly positive feedback from the media, tourists and New Yorkers, Cubby – the one-of-a-kind luggage storage, bag check and personal courier service – will keep its pop-up location at 303 Park Ave South open through the end of November. Customers and curious passersby are excited about the presence of Cubby's urban bag check and delivery service in Manhattan. Dianne Garcia, a tourist visiting from California says, "I think (Cubby) is fabulous!"
Cubby will keep prices the same for November: $5.00 to hold a carry-on sized bag and $8.00 for any piece of luggage larger than a carry-on for a 24-hour period. Those choosing to make a reservation through Cubby's mobile application for iphone and Android will automatically receive a discount on each bag.
Cubby will continue to pick-up and/or deliver your bags for as low as $10. They have expanded their bike couriering perimeter in order to keep pricing affordable. For out-of-the-way destinations, including the outer boroughs and airports, Cubby remains in partnership with a luxury car service to get their customers, and their bags, where they need to be.
Cubby is in the process of finding a permanent home in Manhattan. With the upcoming holiday season, the founders of Cubby anticipate an influx of visitors and New Yorkers with plenty of extra baggage, and hope to make this shopping season less stressful for everyone.
The pop-up store, located at 303 Park Avenue South, opened on September 16th, 2011 and will now remain open until November 30th, from 8am-12am, daily.
About Cubby
Cubby is an urban personal logistics company that specializes in securing and couriering people's extra belongings. They provide luggage storage and bike courier services all connected via mobile application technology. Cubby uses this mobile technology alongside a trusted brand image to make urban travel simple, affordable and safe.
Visit the Cubby webpage – http://www.gocubby.com
Follow Cubby on Twitter - @gocubby
Follow Cubby on Facebook - facebook.com/pages/Cubby/109769855754675
Follow the Cubby Blog - gocubby.com/blog
Email Us – paul(at)gocubby(dot)com
###