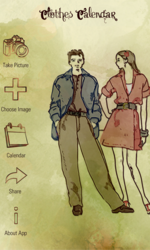 Shippensburg, PA (PRWEB) November 02, 2011
Unless humans could somehow be gifted with memory like elephants, most people will continue struggling to remember what they wore last week. Even after a few days, clothing choices can quickly become a blur.
Unfortunately, not being able to remember what was worn (and when/why it was worn) can be embarrassing, especially if the same outfit is worn again too soon.
With the new Clothes Calendar app for iOS and Android, smartphone users will never again fall victim to fashions unspoken rules of wardrobe rotation. The creator of the app, Dr. Janet Bufalino, is a professor at Shippensburg University who knows firsthand why an app like this is useful to those who have face-to-face interactions on a daily basis.
The Clothes Calendar app was designed for business people, teachers, college students, or anyone who wants help remembering what they wore, when they wore it, and why. Instead of having to remember, the iPhone or Android app does all the work!
Clothes Calendar app features:

Picture Icon: Take a picture, write a description, save it to the calendar.
Image Icon: Upload a picture, write description, save it to the calendar.
Calendar Icon: Check the calendar for what was wore on a certain date.
Share Icon: Share the app through Facebook, Twitter & E-mail.
This highly useful app was slimmed down (feature wise) on purpose. "We didn't want to add options that people won't use a majority of the time, since unused features become wasted space on apps," explains Dr. Bufalino. "We built it to work in an uncluttered and simple way so that adding a calendar entry takes only seconds".
Janet's innovative concept was brought to fruition by Onseeker® Technologies - a company that specializes in turn key & custom application development, web design, and video production.
Availability and Pricing:
The Clothes Calendar app is available for download now on the iTunes App Store, and the Android Market. During the month of November, the Clothes Calendar App is just $.99.
Review copies are available upon request.
Dr. Janet Bufalino began her career in literacy as a Title 1 teacher in Corry, PA. During her years as a reading specialist, she supported children in grades K-6. Following the completion of her doctorate in Language Arts, Dr. Bufalino accepted a position at Shippensburg University of Pennsylvania in 1993. Presently Dr. Bufalino is the director of the reading coursework at Shippensburg University and is a Reading Recovery Trainer for the states of Pennsylvania, Maryland, Virginia and West Virginia.
Contact:
Dr. Janet Bufalino
JMBUFA(at)ship(dot)edu
717.860-6164
###