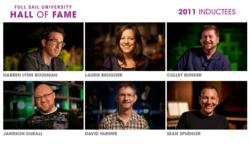 "We thank all of our guests, friends, industry leaders, inductees, and sponsors, both past and present, who will be celebrating with us this year as we embark on 2011 Hall of Fame Week."
Winter Park, FL (PRWEB) November 01, 2011
Today, Full Sail University unveiled plans for the school's 2011 Hall of Fame Week. The mission of the week-long celebration is to honor past inductees of the university's Hall of Fame, induct its newest members, and to explore and celebrate the entertainment and media industry. The week will commence on Monday, November 7, 2011 with the induction ceremony of the 2011 class of the Full Sail University Hall of Fame. The induction ceremony will be followed by a series of campus-wide special events throughout the week.
During the 2011 Hall of Fame Week, the school will also welcome celebrity and industry friends of Full Sail. Among those slated to attend: City of Winter Park Mayor Ken Bradley; Lee Corso, college football analyst for ESPN; Adam Sher, CEO of Ryan Seacrest Productions; Stedman Graham, educator, author, businessman and speaker; and Bruce Swedien, GRAMMY® award-winning audio engineer and music producer.
In addition, private musical performances will be held on campus during the week; artists expected to perform include singer/songwriter and Atlantic Records recording artist Marc Broussard (http://www.marcbroussard.com/) and acclaimed electronic musician Jeremy Ellis (http://jeremyellismusic.com/).
Full Sail's Hall of Fame Week, an annual tradition celebrating its third anniversary, features industry leaders – including Full Sail University graduates, faculty, and special guests – participating in forums, panels, and lectures that explore perspectives on issues in the entertainment and media industry. This year, the forums and panels will feature topics such as Transmedia in the New Age of Branding, The Impact of the Internet on Film, TV and the Music Business, Film Distribution, Professional Game Creation, and conversations with GRAMMY and Oscar-winning alumni.
Also included in the schedule of events, Full Sail University will welcome Orlando, Inc. (the Orlando Regional Chamber of Commerce) on Thursday, November 10, for their 2011 B.I.G.* Summit, Orlando's premiere event for *Business Innovation and Growth. This year's summit features entrepreneur and social media icon Gary Vaynerchuck, as well as Kevin Harrington from ABC's hit show Shark Tank.
The Hall of Fame Week will conclude on Friday, November 11 with a campus-wide Veteran's Day flag-raising ceremony commemorating and recognizing veterans across all branches of the military that have dedicated their lives in service to our country.
"Each year we take great pride in joining together to celebrate those members of our alumni
who have demonstrated an outstanding contribution to their chosen field in the entertainment and media industry, while sharing a commitment to their fellow graduates and our current students," said Full Sail University President, Garry Jones. "We thank all of our guests, friends, industry leaders, inductees, and sponsors, both past and present, who will be celebrating with us this year as we embark on 2011 Hall of Fame Week."
For more information on the Hall of Fame graduates and a full listing of their credits, please visit:http:// http://www.fullsail.edu/about/press-room/full-release/2011-08-16-hof-inductees
Sponsors for Full Sail's 2011 Hall of Fame Week include industry leaders Avid, Sony Electronics, and Swank Audio Visuals.
About Full Sail University:
Full Sail University is an award-winning educational leader for those pursuing careers in the entertainment and media industry. Founded in 1979, Full Sail has been recognized as one of the Top Five Game Degree Programs by Electronic Gaming Monthly, one of the Best Music Programs by Rolling Stone Magazine, and one of the Best Film Programs by UNleashed Magazine. In 2011, Full Sail received the "21st Century Best Practices in Distance Learning Award" from the United States Distance Learning Association, was named the "School/College of the Year" by the Florida Association of Postsecondary Schools and Colleges, and was recognized as one of the Top 100 Social Media Colleges by Studentadvisor.com.
Full Sail offers on-campus and online Master's, Bachelor's, and Associate's degree programs in areas related to animation, art, business, education, graphic design, film, marketing, web development, music, recording arts, sports, and video games. Full Sail graduate credits include work on OSCAR®, Emmy®, GRAMMY®, ADDY®, MTV Video Music Award, and Spike Video Game Award nominated and winning projects.
http://www.fullsail.edu
http://www.twitter.com/fullsail
http://www.facebook.com/fullsailuniversity
###