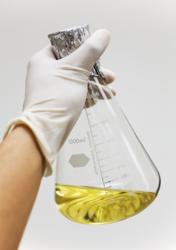 Solon, Ohio (PRWEB) November 01, 2011
AMRESCO, LLC, a company offering a diverse range of biochemicals and reagents for life sciences, has added ZYP-5052, Autoinduction Media to their product line. The formulation, based on the work of Dr. Studier at Brookhaven National Laboratory, simplifies culture handling by utilizing differential metabolism of sugars by E. coli to automatically induce protein expression. The complex media comprised of many individual components is packaged as a ready-to-use solution, eliminating the need for laborious in-house weighing, mixing and sterilization. Precision in AMRESCO's manufacturing and quality control guarantees consistency and high-performance for all media batches.
AMRESCO's ZYP-5052, Autoinduction Media activates recombinant protein expression in E. coli through diauxic growth in media containing glucose, glycerol and lactose. In the first growth phase, bacteria preferentially metabolize a limited glucose supply to produce a high density culture without inducing protein expression. During the second phase, bacteria consume glycerol and lactose. The presence of lactose activates lac promoters to induce expression of T7 RNA polymerase. The T7 RNA polymerase then actively transcribes the cloned DNA, which is subsequently translated into a significant percentage of the cells' total protein. The recombinant protein may then be isolated and purified for downstream applications.
A protein expression protocol using ZYP-5052, Autoinduction Media is more efficient than conventional methods for both high throughput and routine protein expression, because it eliminates the need to monitor cell density and the manual addition of IPTG, a lactose analog, for induction. An additional benefit of using ZYP-5052, Autoinduction Media is improved protein yield compared to the yield achieved by a conventional growth and induction method. These benefits combined with the convenience of a ready-to-use, quality-controlled media make AMRESCO's ZYP-5052, Autoinduction Media a clear choice for optimal performance in recombinant protein expression.
For more information about ZYP-5052, Autoinduction Media or any other AMRESCO products, visit http://www.amresco-inc.com or call 1-800-829-2805.
AMRESCO is a manufacturer and supplier of high quality biochemicals and reagents for molecular biology, life sciences, proteomics, histology and clinical areas of research. The company is ISO certified and has QSR compliant facilities to ensure customers receive the highest quality products.
###