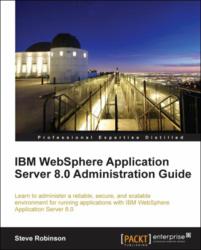 UK (PRWEB) November 01, 2011
Birmingham: Packt Publishing, one of the world's foremost publishers of IBM books and eBooks, today announces the publication of IBM WebSphere Application Server 8.0 Administration Guide. The book represents a significant update of Packt's previous WebSphere Application Server 7.0 Administration Guide with 30% new content for version 8. The book and eBook offers step-by-step administrator focused information as well as providing a variety of real-world examples throughout. It is available for purchase now in print copy, ebook, kindle and library platform versions.
Packt's IBM WebSphere Application Server 8.0 Administration Guide enables readers to get to grips with the new administrative features that WebSphere Application Server 8.0 has to offer; these include the new installation process using IBM Installation Manager. It also covers managed deployments through drag and drop, automated configuration, administrative access, derby JDBC drivers, Java messaging and enabling messaging persistence using databases, and much more. Please visit Packt Publishing for detailed further information on the book.
If you are an administrator who wants to get up and running with IBM WebSphere Application Server 8.0, then this book is not to be missed.
Packt Publishing has published numerous titles that serve the needs of IBM WebSphere professionals, including:

WS-BPEL 2.0 for SOA Composite Applications with IBM WebSphere 7
Application Development for IBM WebSphere Process Server 7 and Enterprise Service Bus 7
IBM WebSphere eXtreme Scale 6
IBM WebSphere Application Server v7.0 Security
Some information aboutPackt Enterprise.
Packt Enterprise is a publishing division of Packt Publishing that focuses on the informational needs of IT professionals in the Enterprise Space. To date it has published almost two dozen books on IBM technologies including titles on Lotus Notes, Cognos Planning, Lotus Quickr and Filenet Manager. Packt recently launched its own online library platform, where for a low annual subscription – readers can access the full range of Packt books through any web browser. For those who do not need the full range of 650+ books, there is an IBM-only library now available.
###