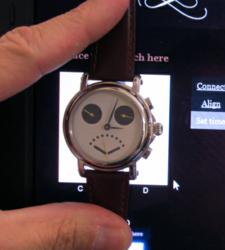 It can even update with the latest weather forecasts, sports results or market data while you're making your morning coffee
London, UK (PRWEB UK) 2 November 2011
London-based manufacturer of watch movements and timekeeping electronics, Hoptroff, today announced that its TimeKiss technology has been extended to allow its watch movements to be customized and configured optically, directly from its web servers, with no external equipment required.
The link works by sending data as a series of light and dark pulses on its web pages to light sensors on the back of the watch, and allows devices to be tailored for each individual user with features such as calendar syncing, time zone selection and automatic daylight saving updates. The optical link to a web site means any computer or smartphone with a web browser can be used to configure the watch, with no connectors or cables required, and no software to install.
"It could even update with the latest weather forecasts, sports results or market data while you're making your morning coffee," said Hoptroff founder, Richard Hoptroff. "We're actually quite a traditional company and we don't like to integrate new technologies just because they are there, but the beauty of this system is that it is so useful and easy to use."
The move to cloud-based control has been described by insiders as "futuristic" and "steam-punk retro" because of the ingenuity of the patent-pending technology.
Hoptroff added: "In a way, it's a throwback to the nineties, when DataLink technology connected Timex watches to the old-fashioned CRT screens. But it also brings cloud computing to the watch industry. The device you wear on your wrist becomes your personal face on a global computing network."
Optically-enabled TimeKiss movements will start shipping in Q4 2011 and the technology is being integrated into the existing range of Ferryman, Pilgrim, Dickens and Harvard movements. The first finished watches are expected to be in the market in 2012. For more information on TimeKiss movements or to learn more about Hoptroff innovation, please visit http://www.hoptroff.com.
###