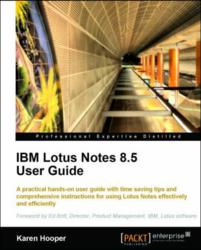 UK (PRWEB) November 03, 2011
Birmingham: Aimed at readers wanting to get to grips with IBM Lotus Notes or those who want to kick on to power user status - Packt Publishing is pleased to announce the publication of their IBM Lotus Notes 8.5 User Guide book onto the Kindle Platform
What is Lotus Notes. IBM Lotus Notes is an integrated desktop client option providing security-rich e-mail and calendar capabilities with a powerful platform for collaborative business applications. Lotus Notes enables users to take business communications to a new level efficiently, quickly and productively.
What does the book cover. Aimed at business user who wants to get the most out of Lotus Notes, from beginners to seasoned professionals, this book aims to cover the features, best practices, tips, tricks, and tools that enable people to work smarter in Lotus Notes 8.5.

Understand and master the features of Lotus Notes and put them to work in business quickly.
Contains comprehensive coverage of new Lotus Notes 8.5 features
Includes easy-to-follow real-world examples with plenty of screenshots to clearly demonstrate how to get the most out of Lotus Notes
Packed with expert tips and best practices, for using business e-mail, calendars and other Lotus Notes applications for efficient business communication
About Packt. What other Lotus books has Packt Published?
Packt has published several other IBM Lotus titles, including:
IBM Lotus Quickr 8.5 for Domino Administration
IBM Lotus Domino: Classic Web Application Development Techniques
IBM Lotus Notes and Domino 8.5.1
About Packt
Packt Publishing is one of the world's top publishers of books for Enterprise IT professionals. With titles spanning the IBM, Microsoft and Oracle spaces, amongst others, Packt aims to cover the informational needs of administrators, developers, architects and end users alike. The company offers all its books in print, kindle, eBook and select library formats.
###