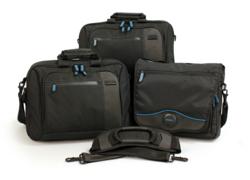 Rochester, NY (PRWEB) November 01, 2011
Skooba Design has announced six new product additions to its ever-expanding line of tech-travel carrying cases and accessories. The company's new flagship V.3 Collection includes two laptop bags, an iPad/tablet messenger, and a new version of Skooba's popular Superbungee shoulder strap. Also just introduced are Skooba Skin Neos¬—neoprene skins for laptops and tablets, featuring Skooba's patented skin-to-tote convertible design.
The Skooba Satchel V.3 provides a dedicated laptop section, separated from the main compartment, for maximum protection and fast access. Skooba's "Bumper Bars" supplement the fully padded walls, providing additional shock absorption and improved air circulation. 20 additional pockets and compartments organize gadgets, accessories, cords, files and office necessities. Other features include a hideaway water bottle caddy, gasket-sealed, weatherproof zipper on front flap compartment, movable/removable file divider, Skooba's patent-pending Superbungee shock-absorbing shoulder strap (also offered as a separate accessory), and more. Yet with all of its bells and whistles, the Satchel tickles the scales at a shoulder-friendly 43 ounces for the standard size (for all 15"-range laptops and most 17" slim bodies like MacBook) and 46 ounces for the large (for full-sized 16-17" machines).
The V.3 iPad/Tablet Messenger is a slim, compact, courier-style bag that holds any tablet, netbook or e-reader in a dedicated, padded compartment. 16 other pockets and compartments hold accessories and office/travel necessities. Some of the many other features include hideaway water bottle caddy, quick-access top zipper, and a unique, "Revolution" magnetic front flap closure that locks shut on contact and opens with a quick twist. The Messenger weighs a scant 25 ounces—no more than the iPad with Smart Cover weighs alone.
Skooba is known for its attention to even the smallest detail. In keeping with that tradition, one of the notable details of the V.3 Collection is that all of the compartments in the main accessory organizer are fully padded. According to Skooba's Lorri Diggory, "it used to be that accessory pockets were just for pens, business cards and cords, and most bags are still made that way. But now these products hold cameras, audio, portable hard drives and other expensive gear. They are in many ways just as important as the laptop compartment, and we thought the design should recognize that."
All V.3 Collection bags are made of Micro Ballistic Nylon, a material that the company says provides the optimal combination of strength and durability, water resistance, and light weight, with the look, feel and quality of fine luggage.
Also new are Skooba Skin Neos, for laptop or tablet. This new generation of the company's popular Skin line is made of stretchy, protective neoprene for all-around protection with minimal bulk. Unlike basic notebook sleeves, Skooba's patented Skins are instantly convertible to be used three ways: As a traditional, "envelope"-style sleeve, a standalone, grab-handle tote, or a shoulder bag with removable strap. The Skins are Security Checkpoint Friendly when used as per TSA guidelines.
V.3 Collection prices (MSRP) range from $27 for the Superbungee strap to $179 for the large Satchel. Skooba Skin Neos list for $49.95 to $59.95. Full specs and dealer/ordering information at http://www.skoobadesign.com.
###