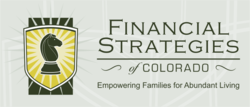 Loveland, CO (PRWEB) November 01, 2011
Financial Strategies of Colorado announced today that it is launching new campaign to help educate residents of Northern Colorado and the surrounding areas to better secure their financial future through a novel macro-management approach, instead of the typical micro-management approach used by most financial experts.
The LEAP System® model they're introducing is a scientific financial planning process that helps clients accelerate wealth creation without increasing out-of-pocket outlay. This model helps clients optimize their investments and get maximum return with all of the upside potential and no downside risk.
By providing a powerful model to follow, Financial Strategies takes the guesswork out of financial decision-making, allowing the firm to focus on verifiably productive strategies for wealth creation and asset protection.
They are so confident about their ability to help clients create a secure financial plan that can weather even the most uncertain economic times that they are giving away a $100 gift certificate to qualified individuals to any of the following restaurants in the Fort Collins and Loveland area – The Canyon Chophouse, Sonny Lubick Steakhouse, or The 4th Street Chophouse – just for scheduling and attending a free, one hour, one-on-one financial consultation.
With nearly 50 years of combined experiences in the Insurance and Retirement Planning field, Financial Strategies of Colorado has what it takes to help clients pursue their dreams with confidence.
Potential clients are asked to call 970-663-3211 to schedule their financial consultation today. Mention RSVP code GC11. Or visit http://www.fscolorado.com today.
###