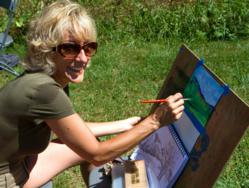 Starksboro, VT (PRWEB) November 01, 2011
Since its humble beginnings in 1994 when the Camp Common Ground rented a site for two weeks of family programming, the Common Ground Center has evolved into a year-round facility that hosts weddings, retreats, and a wide variety of community-building programs. Common Ground Center is pleased to announce its two newest program offerings, premiering in the winter and spring of 2012.
Men's Winter Adventure Weekend, to be held March 2-4, 2012, is an all-inclusive retreat. Participants in this men-only retreat will have the opportunity to snowshoe on Common Ground Center's 700-acres of hiking trails. Guests can thaw out in the brand new Eco-Lodge with solar-powered radiant heat or kick back and relax in front of the wood stove.
From May 25-29, 2012 the Aspiring Artists Retreat will be sure to delight creative people from all backgrounds. Watercolor and pottery will be the focus of this four-day program; workshops will be led by talented artists Jackie Mangione and Veronica Gadbois. Afternoons will be spent visiting local artists' studios as part of the Vermont Spring Open Studio Weekend. The gorgeous Vermont landscape is sure to inspire artistic masterpieces!
The dream for a new program at Common Ground Center often comes from alumni of Camp Common Ground, and the two new programs are no exception.
Men who participated in a daily Men's Group meeting during Camp Common Ground decided that they wanted to create a space for men to gather during the winter. The new year-round Eco-Lodge was a perfect fit!
The artists who are bringing their talents to Aspiring Artists Retreat have both been coming to Camp Common Ground for years, first as campers and then as art instructors. They had a vision for drawing upon the artistic inspiration engendered by the Vermont Spring Open Studio weekend, and the new program was born.
The Common Ground Center invites anyone who has an idea for a new program to get in touch. The site is available for rentals throughout the year, and Common Ground Center staff members are happy to provide assistance to people interested in launching new programs or finding a location for an existing program.
Registration is open for all 2012 programs at the Common Ground Center, including Women's Weekend, Family Camp, and more! Visit the website or call the office at 800.430.2667 for more information or to register.
###