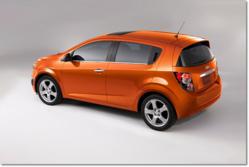 Our goal is to make it easy for our online customers to find the cars they are looking for whether it is a new Chevy or one of our quality used cars, trucks or SUVs.
Dawsonville, GA (PRWEB) November 01, 2011
John Megel Chevrolet which serves the Atlanta Chevy and used car markets has ramped up its online and traditional sales programs to promote the new 2012 Chevrolet models including the Sonic and Volt. The company has revamped its Chevrolet websites to make them more search engine friendly. They have launched a mobile MegelChevy.com website that allows customers to easily search their new Chevy and Atlanta used cars inventories on their mobile phones and tablets. This new online visibility has made their Chevrolet brand cars, trucks and SUVs much more accessible to the internet car shoppers who are looking for the new 2012 model year vehicles. The 2012 Chevrolet lineup is creating a lot of buzz with new car buyers looking for fuel efficient cars that also have great performance. The two newcomers, the competitively priced Chevrolet Sonic and the highly acclaimed Chevy Volt, are generating a lot of interest in Chevrolet's 2012 versatile family of cars.
The new Sonic is getting car buyer's attention at John Megel Chevrolet because of its excellent price point and great gas mileage. The Sonic features standard aluminum wheels and comes in 4-door sedans or 5-door hatchback models. The highly rated Chevy Volt, Motor Trends "2011 Car of the Year" is also now available at John Megel. The Volt has outstanding fuel efficiency through a combination of an electric motor and gasoline power. Another 2012 Chevrolet with outstanding gas mileage is the Chevy Cruze that delivers up to 42 MPG which is the best highway mileage among American gas engines. The ever popular Malibu is back for 2012 and it saves money at the pump by delivering 33 MPG. John Megel Chevrolet has the entire Chevy lineup of cars, trucks and SUVs for 2012 including: Avalanche, Camaro, Corvette, Cruze, Impala, Malibu, Sonic, Volt, Silverado, Colorado, Traverse, Equinox, Suburban, and Tahoe.
John Megel Chevrolet carries some of the really hard to find performance cars such as the 2012 Corvette Z06 which is powered by a hand-built 7.0 liter V-8. The Corvette Z06, a true American sports car, is among the best luxury sports cars in the world and is one of the fastest cars on the globe with a top speed of 198 mph. The dealership also carries a complete selection of high performance Camaros including the great looking Camaro convertible for 2012. Models come equipped with a 323 horsepower V-6 engine that gets an impressive 29 MPG on the highway or if you purchase a Camaro SS it is equipped with a 426 horsepower V-8. The 2012 Camaro has special incentives for a limited time for buyers who purchase one of these great performing vehicles.
In addition to the new Chevys for 2012, John Megel Chevrolet has a large inventory of quality used cars, trucks and SUVs. The dealership's online displays of used cars makes it easy for customers to search for used vehicles so they can find just the car, truck or SUV they are looking for. If customers can't find the car they are looking for, John Megel's online marketing staff can get the cars customers want.
Jonathan Megel, General Manager of John Megel Chevrolet commented on the new 2012 Chevrolets and the dealerships online presence. "The 2012 Chevrolet models are the most exciting I have seen in years. From the highly rated Chevy Volt, new Sonic and Cruze, to the classic models such as Malibu, Silverado and Tahoe, Chevrolet has really put together a tremendous selection of outstanding vehicles. As we move into 2012 we will continue to strive to make our dealership the leader in online sales providing our customers great parts and certified service. Our goal is to make it easy for our online customers to find the cars they are looking for whether it is a new Chevy or one of our quality used cars, trucks or SUVs. We look forward to 2012 as another great year at John Megel Chevrolet."
John Megel Chevrolet serves the Atlanta Chevrolet and used car markets from Dawsonville, GA. John Megel Chevrolet is located at: 1392 Highway 400 South, Dawsonville, GA 30534, Phone: 706-265-5400. Website and web marketing services provided by Atlanta SEO Company, Interactive Search Marketing.
###