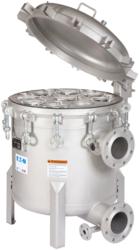 Cleveland, OH (PRWEB) November 02, 2011
Diversified industrial manufacturer Eaton Corporation today announced the introduction of its most competitively priced multi-bag filter housing system for high volume applications. The PROLINE 100™ Series filter housings are 100 PSI rated, non-coded vessels for use with standard #2 size filter bags. The new HE Series vessel design offers a spring assisted lifting mechanism that balances the cover perfectly. The SE Series vessel offers the revolutionary QIC-LOCK® opening mechanism for fast and easy access to the filter chamber with minimal downtime.
"We need to continually look at our products to ensure they're the best in the market," said Rick Jacobs, general manager of Eaton's Filtration business "Not only to ensure we stay ahead of the competition, but also to ensure we're doing everything we can to help our customers get the most out of their filtration processes."
Eaton's development of the PROLINE 100 Series multi-bag vessel took into consideration the total life cycle costs as well as their commitment to sustainability. As a result, the housings are only available in 304 stainless steel, which is 100 percent recyclable when service life is complete. Available from Eaton's filtration distribution network, the PROLINE 100™ Series is available in 4, 6, 8, and 12 bag configurations.
Eaton's Filtration business is a worldwide leader in supplying environmentally friendly and economical solutions for liquid/solid separation problems and enhancing customers' processes in municipal and industrial water, oil and gas, chemical, paint, and other industrial market applications. Eaton is the owner and manufacturer of the widely recognized legacy brands of GAF Bag Filters, Hayward Filtration, Loeffler, Ronningen-Petter, Wright-Austin, Internormen Technology, and Begerow. Eaton filtration products are manufactured and sold worldwide through North and South American, European and Asia Pacific regional offices and an extensive global channel of representatives and distributors in more than 100 countries. For more information,visit Eaton's filtration business.
Eaton Corporation is a diversified power management company with 2010 sales of $13.7 billion. Celebrating its 100th anniversary in 2011, Eaton is a global technology leader in electrical components and systems for power quality, distribution and control; hydraulics components, systems and services for industrial and mobile equipment; aerospace fuel, hydraulics and pneumatic systems for commercial and military use; and truck and automotive drivetrain and powertrain systems for performance, fuel economy and safety. Eaton has approximately 73,000 employees and sells products to customers in more than 150 countries. For more information, visit http://www.eaton.com.
###