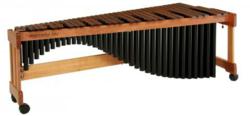 It's all about making music instruments more musical.
Arcata, CA (PRWEB) November 01, 2011
The research and development team of Marimba One, Arcata, California, led by its eccentric and brilliant founder Ron Samuels, has brought innovation to sound yet again. How? With the introduction of harmonic filters, an innovation unique to Marimba One.
Says Samuels, "We are the first and only company to have developed these for marimbas. We take a resonator, analyze its sound spectrum, and engineer a filter to control the harmonic content of the resonator so that it seamlessly matches its neighboring resonators." The result is "High-Definition Resonators," the next generation. Because the quest for perfect sound never ends.
It's all about making music instruments more musical. "You'll get perfect balance on the bass end and perfect projection on the treble end," explains Samuels.
That's why, after two dozen years of experimenting with acoustics, Marimba One still brings a fresh approach to building the finest concert instrument while rising to the challenge of making these beautiful marimbas affordable.
All the resonators and bars are individually customized on the North Coast of California.
The company will present its breakthrough concert marimbas at the Percussive Arts Society International Convention in Indianapolis Nov. 10-12, booths 300-306.
About Marimba One
Marimba One is the world's premier maker of concert marimbas. Located in the college town of Arcata, nestled in the Redwoods of California, the company makes custom marimbas, giving great attention to the sound that customers want on their instrument within their budget.
###