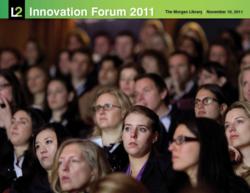 "The Innovation Forum brings together thought leaders from industry and academia in a TED-style format, combining short-form, rapid-fire presentations with interview-style conversations and panel discussions." – Scott Galloway, Founder, L2
New York, NY (PRWEB) November 01, 2011
Speakers include CEOs and thought leaders from academia and industry. L2 marketing conferences are the largest gatherings of prestige professionals in North America, drawing C-level executives and top digital marketing talent from prestige brands, agencies, and media, as well as innovators and academics.
To register, go to: http://l2innovationforum2011.eventbrite.com/
L2 Forums combine education and entertainment to inspire and enlighten. The Forum will feature:

High-velocity, provocative presentations by thought leaders from industry and academia
Conversations and panels with industry icons and influencers
Just-released Digital IQ Index® research benchmarking prestige brands in fashion, beauty, accessories, and retail
Trends, predictions, and best practices based on a year's worth of L2 research
Performances by up-and-coming artists from The Juilliard School
Edge-of-the-network product introductions and demos
Watch video from 2010 Innovation Forum: http://vimeo.com/16854437
Presenters include:
Jennifer Aaker, Professor, Stanford University's Graduate School of Business; Tom Bodkin, Asst. Managing Editor & Design Director, The New York Times; Scott Galloway, Founder, L2; Peter Henry, Dean, NYU Stern School of Business; Tim Hwang, Chief Scientist, Pacific Social Architecting Corporation; Sheril Kirshenbaum, Research Scientist, Webber Energy Group at the University of Texas; Michael Lazerow, CEO, Buddy Media; Greg Lindsay, Author, Aerotropolis: The Way We'll Live Next; Thomas Lockwood, Author, Design Thinking; Sonia Marciano, Professor of Management & Organizations; NYU Stern School of Business; Maureen Mullen, Research & Advisory Lead, L2; Paul Romer, Professor, NYU Stern School of Business; Kristine Shine, Vice President, Popsugar Media; Julian Treasure, Author, Sound Business; Duncan Watts, Principal Research Scientist, Yahoo! Research; Geoff Watts, Co-Founder, EDITD; Gabe Zichermann, CEO, Gamification Co.; Oren Michels, CEO & Co-Founder, Mashery; Tom Phillips, CEO & Co-Founder, m6d; Victoria Ransom, Founder & CEO, Wildfire; John Tomich, CEO & Co-Founder, OneStop; Rachel Shechtman, Founder, Cube Ventures; Catherine Levene, Co-Founder & CEO, ArtSpace; Tamas Locher, CEO, LOOKK.com; Dave Gilboa, Co-CEO & Co-Founder, Warby Parker; Joel Weingarten, CEO & Founder, StyleOwner; Marc Speichert, Chief Marketing Officer, L'Oréal; Melisa Goldie, EVP, Chief Creative Officer, Calvin Klein, Inc.; David Duplantis, EVP, Global Digital Media & Customer Engagement, Coach; Charles Gibb, President, Belvedere; John Jannuzzi, Editor, Lucky Magazine; Mac Joseph, Social Media Marketing, Mandarin Oriental Hotel Group; and Leanne Gault, Social Media Manager, Viking Range Corporation.
About L2
L2 is a think tank for digital innovation. Founded by NYU Stern professor of marketing Scott Galloway, L2 helps prestige brands navigate the digital marketing landscape through events, research and advisory services. The L2 Digital IQ Index® is the largest and most robust study of its kind. Rankings are published annually across industries including Luxury, Beauty, Specialty Retail, Travel, and Magazines.
For more information, visit: http://l2thinktank.com/
###