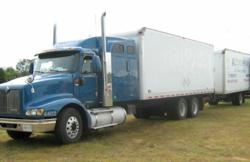 Adco movers moved me 4 times. I would recommend them to anyone looking to move. The crew did a great job, they surpassed all of my expectations. They were very professional.
R.B.J
Calgary,AB
Toronto Ontario (PRWEB) November 02, 2011
ADCO Movers in Toronto and Barrie know that some moves can be memorable for all the wrong reasons if a client and moving company are not "on the same page".
Clarence Barron of ADCO movers says, "When moving from city-to-city, between provinces or even moving to the USA it can be a daunting experience even for the "seasoned" mover. Clarence further adds, "You should make sure that you fully understanding the estimate, insurance coverage, pickup time and delivery dates, which can be confusing if not spelled out correctly. So make sure you ask the hard questions."
Here's some suggestions that ADCO recommends for a stress free move?

Know what you want to convey to movers before you meet with them
Get 3 estimates - in writing, to negate any surprises
Ask for references
Who is doing all the packing, the client or the movers?
Think about whether a local or a National mover is required
Check the internet for reviews of any potential mover
Set up appointments for them to do an on-premises inspection
Verify proper moving Insurances to ensure all belongings are protected
A moving company should have special licences/insurance for special cargo
Check with the BBB
Know what is considered an "extra" i.e. extra cost
What do the movers supply? Blankets, boxes, packing material
Preparation 4 weeks out from the move...

Clean out closets, cupboards, toy boxes and garages
Make a complete list of items that are being moved for future reference
Place a moving box in each room to begin packing non-essential items
Check with the gym, and library etc re memberships for cancellations or relocation
Are there any pets? Speak with a local vet for referrals in the new location
Post office – make plans for forwarding of mail to the new address
Utility companies must be contacted with upcoming move dates
Insurances relating to home, auto and life–notify respective offices of the move
Preparation 2 weeks out from the move...

Verify the date and availability with the mover to ensure no conflicts or surprises
Make arrangements with utility providers at the new location for connectivity
Contact the family doctor(s) for medical records to be transferred to new a new Medical clinic
Pack all items not needed for 2-3 weeks
One week out from the move...

Prepare lawnmowers, chainsaws or snow blowers for transport by draining oil and gas
Keep an "essentials" box handily accessible and ready to unload first and should include bathroom items, medications and first aid supplies.
Keep a small supply of tools accessible, including a hammer, screwdriver, pliers, nails etc.
Keep a supply of liquids (non-alcoholic) and ready-made food for the trip or upon arrival at the new destination
Use up food, both refrigerated, frozen and cupboard supplies in the last week to ensure the moving company movers transport less on moving day.
The Day before moving day...

Defrost and clean the fridge and ensure moveable shelves in both fridge and stoves are removed and packed separately
Gather all keys
Keep the phone plugged in until ready to depart
Notify friends or relatives you are moving and will also be busy for the next 24-48 hours
Try to get a good night's sleep – you will definitely need it
Moved in and Settled?

Make necessary address changes for drivers licences and medical cards
Contact media sources for news papers
Get to know your neighbors
Follow this list and you will be ensured of a smooth, stress free move every time.
ADCO Movers Inc. is a family owned moving company, moving residential and commercial goods and are an official bonded carrier with Canada Customs since 1990. ADCO provides reliable, residential and commercial moving services, relocating families and business locally or across Canada and the USA.
For more information on ADCO Movers, call their office toll free at 888 250-2008, locally at 416 631-8189 or visit their website at http://www.adcomovers.ca.
###