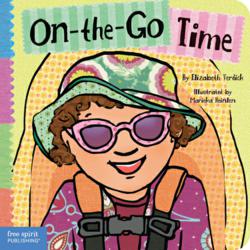 Minneapolis, MN (PRWEB) November 02, 2011
Free Spirit Publishing presents ON-THE-GO TIME ($7.95), the tenth book in the award-winning Toddler Tools series of board books by author Elizabeth Verdick and illustrator Marieka Heinlen. ON-THE-GO TIME was written to help take the hassle out of shopping and running errands with little ones. In the book, toddlers learn simple tools and encouragement to keep moving, cope with the changing scenes, and be super helpers in the car, at the store or library, and on the road. What do they do when they're on-the-go? Listen, follow along, and even lend a hand. If they're struggling with transition times, or feeling disappointed or overstimulated along the way, they can take deep breaths to calm down.
The Toddler Tools series offers a fresh look at the times and transitions all toddlers face daily, giving young children coping skills to ease transition times and handle everyday routines with confidence and cooperation. In ON-THE-GO TIME, MEALTIME, BEDTIME, CALM-DOWN TIME, MANNERS TIME, SHARING TIME, NAPTIME, LISTENING TIME, BYE-BYE TIME, and CLEAN-UP TIME (Free Spirit Publishing, $7.95 each), Heinlen's signature illustrations—vibrant color interwoven with vintage fabrics—are the perfect complement to Verdick's rhythmic text.
Each book also contains a section of tips for parents and caregivers. Here are few tips from ON-THE-GO TIME to keep toddlers moving:

Keep to a schedule. Make it easier on everyone by running errands or scheduling appointments in between your child's meals and naps. This will ensure your child is rested, fed, and ready to go. Don't try to cram too many stops into one trip—this often leads to frustration, tears, or meltdowns.
Make a "go-time" list. Your child will do a lot better on-the-go if you've made a visual schedule ahead of time. On a piece of paper, draw a representation of each place you'll be going: a book for the library, an apple for the grocery store, a stamp for the post office. Then your child will know what to expect and look forward to.
Get ready, get set. Before you leave home, give your child a chance to use the bathroom, get a drink and snack to take along, and choose a favorite toy to bring. Make sure you always have a handy stash of diapers and wipes, underpants and extra clothes, raingear, juice boxes, small toys, and other essential "go-time" supplies. It's helpful if your child eats beforehand or brings along a snack—especially if you're running several errands. Full tummies mean calmer children!
Prepare for challenges. You can use every one of these tips and still have one of those terrible outings where your child melts down in public. What to do? Take a few deep breaths and have your child do the same. Avoid yelling, making threats, or bribing your child with treats. Sometimes, it's best to simply pick up your child and leave until you're both calmer and can return to the scene. (You wouldn't be the first parent or caregiver who had to leave a cart full of groceries behind.)
On-the-Go Time ISBN 978-1-57542-379-1
$7.95 / Board book / 24 pp. / color illust. / 7" x 7" / for toddlers
About Free Spirit
Headquartered in Minneapolis, Minnesota, Free Spirit is the leading publisher of learning tools that support young people's social-emotional health and their educational needs. Free Spirit's mission is to help children and teens think for themselves, succeed in life, and make a difference in the world. For more information, visit http://www.freespirit.com.
###