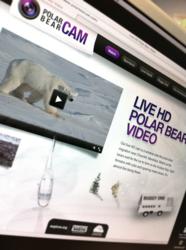 We love the way this website conveys the tundra experience...
WINNIPEG, Manitoba (PRWEB) November 03, 2011
This fall, the Polar Bear Cam (polarbearcam.com) web site was launched with the goal of educating the public on the status of polar bears using high-definition continuous live streaming video from the tundra. The event site was designed by Winnipeg based Bio Design, an online marketing and web design solutions company.
Upon arrival using their desktop or mobile device, visitors are welcomed with an engrossing visual treat - a 3D rendered topographic ariel view of the tundra. The site includes imagery of polar bears and arctic wildlife, a tundra buggy that follows visitors down a trail as they move through the site, and a helicopter that flies overhead. The web site makes use of current web development technology in an effort to grab the visitors attention and draw them into the overarching narrative - preservation of the polar bear.
"We're super excited about the site. We were given the flexibility to create something really special and I think we've done that.", said Bio Design's Darcy Hastings, "We had a lot of fun, it's definitely a site that we're proud to have in our portfolio.", he added.
"We love the way this website conveys the tundra experience, providing a window into the polar bear migration," said PBI President Robert Buchanan. "We believe a look into a polar bear's eyes will change your life forever--and hope it will inspire you to take action to save them."
"Frontiers North is proud to help support the polar bear cam because, as stewards of this amazing resource, we understand not everyone has the means to experience polar bears in the wild," said John Gunter, general manager of Frontiers North Adventures. "With the polar bear cam, all you need is access to the Internet. We hope this will inspire viewers in the same way seeing bears in the wild has inspired our guests."
Visit polarbearcam.com to discover arctic wildlife from the comfort of your desk.
About Bio Design
Bio Design is an international award winning company specializing in online solutions. With over 10 years in the web design industry, their experienced team specializes in results driven digital online multimedia solutions.
Bio Design has developed a name for themselves in the tourism industry working for such clients as Frontiers North Inc. and Tourism Dauphin. They have also branched out into other industries to assist clients in solving complex digital online challenges in a variety of areas including: manufacturing, retail, financial, pharmaceutical, insurance, and consulting.
About the Partnership
explore.org is a multimedia organization that documents visionary leaders from around the world who have devoted their lives to extraordinary causes. Both educational and inspirational, explore.org creates a portal into the soul of humanity by championing the selfless acts of others. This year, explore.org provided the video feeds for the Polar Bear Cam.
Polar Bears International is the only nonprofit dedicated solely to the worldwide conservation of the polar bear and its habitat. They focus their efforts on research, education, and stewardship.
Frontiers North Adventures is passionate about sharing the wildlife, history and culture of the North. Owners and operators of the Tundra Buggy® Adventure, Frontiers North has been providing expert-guided tours in Canada's North since 1987 and is recognized as an international leader in sustainable tourism.
For more information contact:
Darcy Hastings
Bio Design
(204) 510-3051
darcy(at)biodesignworks(dot)com
http://www.biodesignworks.com
###