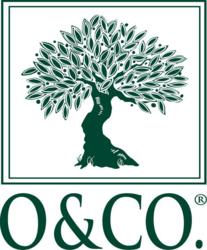 "From the gourmet O&CO. classics to our new limited edition gifts sets, O&CO. offers a broad selection of gourmet specialties this holiday season."
New York, NY (PRWEB) November 01, 2011
In today's competitive global marketplace O&CO. gifts provide a way for the corporate gift giver to connect with the recipient in a personal, thus more meaningful way. Savvy business owners also know that they don't want their holiday gifts to be yet another opportunity to advertise, but to be a sign of true appreciation.
One way to make corporate holiday gifts stand out, whether to a business associate or to friends or co-workers, is by offering a gift with a personal touch that incorporates upscale, quality ingredients. Imprinted and engraved gifts are still popular but companies are more often looking for well thought out, unique gifts. O&CO. offers pre-packaged, unique gift sets and also allows individuals the opportunity to select the contents for their gifts from those offered in the O&CO. gift boutique.
O&CO.'s new gift boutique, available in mid-November has a variety of quality products for every corporate or personal gift-giving need. Rose Malindretos, Director of Marketing & Communication explains, "From the gourmet O&CO. classics to new limited edition gifts sets, O&CO. offers a broad selection of gourmet specialties this holiday season. The exclusive collection of oils, vinegars, truffle products and chef creations offers a unique gift, for the foodie or anyone who loves a good meal."
The new limited edition gift sets include a new line of home fragrances. Created exclusively for O&CO., the new home fragrance, Vert D'Olive, offers notes of fresh cut grass with accents of citrus and olive flower. The fragrance is reminiscent of the purity & freshness of O&CO.'s Grand Crus olive oils.
In addition to the unique limited edition gift items O&Co. continues to offer its line of high-quality body, face and hand products made with olive oil and other organic products. Consider putting together a gift basket complete with high quality, gourmet olive oil and premium food products that include gourmet truffle oils, whole wheat pastas and specialty oils and balsamic vinegar products.
As companies vie for more marketshare, the holiday gift giving season is a time to shine and help businesses to remain memorable throughout the holiday season and beyond. To take the guesswork out of corporate gift giving choose from O&CO. gift sets that include:

A Taste of Italy which offers the indulgent elegance of three best-selling oils
Basil, Lemon & Ravida olive oil
Best of O&CO. collection featuring five 1.7 fl oz bottles of O&CO.'s signature products.
Other gift sets include many bestsellers such as Lemon Specialty Oil, Basil Specialty Oil, Premium Balsamic Vinegar, and Fig Balsamic Vinegar. The gifts are packaged in elegant boxes with O&CO.'s signature holiday design. These gifts are sure to impress!
From the luxurious truffle to tapenades and gourmet balsamic vinegars to the limited edition O&CO. gift baskets, the corporate gift chosen will be one that is long-remembered. Make this years holiday gift giving one that sets businesses apart from the time it is delivered and every time the quality items are used.
###