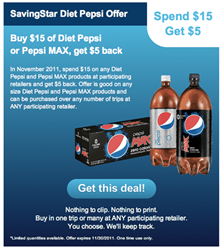 This promotion allows us to reward our fans for their loyalty to our brands over multiple purchases in stores they love to shop," said Shiv Singh, Global Head of Digital for PepsiCo Beverages.
Purchase, NY (PRWEB) November 01, 2011
Pepsi announced today that it has teamed up with SavingStar, the only national paperless grocery savings service, to offer shoppers major savings on Diet Pepsi and Pepsi Max with nothing to clip or print. During November, when shoppers spend $15 in total on any Diet Pepsi or Pepsi Max product at participating retailers - over the course of any number of shopping trips - they'll receive $5 back. Shoppers can access the offer on the Diet Pepsi and Pepsi MAX Facebook pages.
The promotion marks the first time any brand has offered fully digital savings to shoppers who purchase products and reach a spending threshold over multiple shopping trips and at multiple retailers.
Here's how it works:
After shoppers click to activate the offer on Facebook, they are prompted to register their grocery and drug store loyalty cards. SavingStar's digital network includes over 100 retailers nationwide, from Albertsons and CVS to Kroger, Rite Aid, Stop & Shop and many more. A full list of participating retailers is available at: http://www.savingstar.com/participating_stores
At the store, shoppers use their loyalty cards when they purchase any Diet Pepsi or Pepsi MAX products. They can track their progress towards the $15 spend requirement on the same Facebook tab where they activated the offer. When the goal is reached, SavingStar enables shoppers to cash out their $5 savings with a direct deposit to any bank or PayPal account, an Amazon gift card, or a donation to American Forests, the oldest national nonprofit conservation organization, to help plant trees.
"Pepsi strives to deliver value to our fans through innovative digital media. This promotion allows us to reward our fans for their loyalty to our brands over multiple purchases in stores they love to shop," said Shiv Singh, Global Head of Digital for PepsiCo Beverages. "We're excited to partner with SavingStar on this unique social promotion."
Since its launch in April, SavingStar has attracted nearly one million users who activate grocery offers of interest to them on the company's website, http://www.savingstar.com, or on SavingStar's iPhone or Android apps.
"In today's digital world, many shoppers want to save on grocery and drug store purchases but don't have the time or desire to print or clip paper coupons. Paper methods of delivering and tracking rewards are also costly for brands and cumbersome for consumers. Our technology provides an elegant loyalty solution, making it simple and convenient for consumers to earn rewards and choose payout options that fit their lifestyle," said David Rochon, CEO of SavingStar. "We're thrilled to partner with Pepsi on this groundbreaking offer."
About PepsiCo
PepsiCo offers the world's largest portfolio of billion-dollar food and beverage brands, including 19 different product lines that generate more than $1 billion in annual retail sales each. Our main businesses -- Quaker, Tropicana, Gatorade, Frito-Lay, and Pepsi Cola -- also make hundreds of other enjoyable and wholesome foods and beverages that are respected household names throughout the world. With net revenues of approximately $60 billion, PepsiCo's people are united by our unique commitment to sustainable growth by investing in a healthier future for people and our planet, which we believe also means a more successful future for PepsiCo. We call this commitment Performance with Purpose: PepsiCo's promise to provide a wide range of foods and beverages for local tastes; to find innovative ways to minimize our impact on the environment, including by conserving energy and water usage, and reducing packaging volume; to provide a great workplace for our associates; and to respect, support, and invest in the local communities where we operate. For more information, please visit http://www.pepsico.com.
About SavingStar
SavingStar is the first and only national, fully digital, grocery savings service, available for free at Savingstar.com and on iPhone® and Android® mobile apps. The company enables consumers to choose where they shop and how they save. Redeemable at over 24,000 stores, SavingStar's offers are linked shoppers' grocery and drug store loyalty cards and provide a more convenient and eco-friendly way to save on groceries than paper coupons. SavingStar automatically adds the value of each offer redeemed into users' SavingStar accounts, enabling them to pick their payout from cash back to gift cards to charity donations. SavingStar also powers white-labeled grocery savings services, including Upromise and Cartera Commerce. SavingStar is backed by Flybridge Capital Partners, First Round Capital, and other investors. The company is based in Waltham, MA.
###